Department of Veterinary Preclinical Sciences
The Department of Veterinary Preclinical Sciences consists of academics with wide-ranging interests in veterinary pre-clinical disciplines including anatomy, physiology, pharmacology and endocrinology. Our multidisciplinary approach in teaching and research allows us to concentrate on the biological and biomedical sciences that underlie the practice of veterinary medicine.
About us
Academics in this department contribute to teaching in the first three years of the curriculum, with a special emphasis on structure-function relationships in body systems. Current research expertise in the department focuses on the musculoskeletal and cardiovascular systems.
We have ongoing projects on biomarkers of chronic and inflammatory diseases of joints, the cellular physiology and pharmacology of articular cartilage, cardiac arrhythmogenicity and calcium signalling. Many of these projects are in collaboration with other schools at the University of Surrey, UK and international institutions and our veterinary partners.
Meet the team
Head of department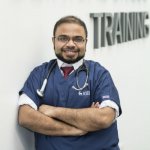 Head of Department of Veterinary Pre-Clinical Sciences & Programme Director BVMSci
Additional staff
Dr Emma Budd
Dr Charlotte Edling
Related links