Erasmus+ exchange
Erasmus+ grants are available for students who undertake either a period of study and/or a period of work abroad in Europe. The period abroad must be a minimum of two months for work and three months for study and a maximum of an academic year (for study) or 12 months (for work). 
Please note: Erasmus+ funding is secured until 2023. Students abroad in 2020/21 and 2021/22 will be unaffected by the UK's decision not to participate in Erasmus+ in the future.
For unpaid work placements this can be 30 weeks to meet professional training requirements. A student may have multiple mobilities to different host institutions in the same or different countries, as follows:
Undergraduate: up to 12 months divided into study and/or work, with a minimum of 3 months study and 2 months work
Postgraduate: up to 12 months divided into study and/or work, with a minimum of 3 months study and 2 months work
Doctoral level: up to 12 months divided into study and/or work, with a minimum of 3 months study and 2 months work
Students can therefore carry out two or more Erasmus+ mobilities at each level of study. It is possible to be funded for two consecutive periods of study or work, provided these meet the course requirements, and you can study abroad in one year and do a work placement the next year if your course allows that, but the maximum amount of funding you can receive as an undergraduate is for 12 months.  
You can then receive another 12 months as a Masters or PhD student.  Recent graduates are classified on the basis of their completed degree.
Erasmus+ students can study or work in any of the countries listed:
Austria
Belgium
Bulgaria
Croatia
Cyprus
Czech Republic
Denmark
Estonia
Finland
France
Germany
Hungary
Iceland
Ireland
Italy
Latvia
Liechtenstein
Lithuania
Luxembourg
Netherlands
Poland
Portugal
Romania
Serbia
Slovenia
Slovakia
Spain
Sweden
North Macedonia
Norway
Turkey
However, in order to study abroad there has to be a bilateral Erasmus+ exchange agreement between a partner university in the country and the University of Surrey. To see where we have agreements for study check Where Can I Go?
To be eligible you must:
Have completed at least one full year of study if you are going to study abroad.  You can undertake a traineeship while still a first year
Have successfully completed the course requirements to proceed to the next stage of the course.
Please use this Search Tool to find out where you can study or work (for laboratory placements) abroad.  Your options will depend on your degree programme and your year of study.  It is best to use Chrome or Firefox.
Please ensure you consult your Erasmus+ Exchange Co-ordinator (pdf)
For Erasmus study placements follow the instructions for international exchange and apply by the stated deadline. For Erasmus work placements the application process opens in February each year.
Students on an ERASMUS+ study or work placement are eligible for a grant to contribute towards the extra living costs. 
The University applies annually for its Erasmus+ funding and receives a contract in July for the coming academic year. This may not be known at the point that you make the decision to go so you should not plan on receiving a specific amount. 
The monthly Erasmus+ grant rates for the 2020/21 academic year are as follows:
 
Study
Work
 
2018-2020 Project

2019-2021 Project

2018-2020 Project

2019-2021 Project

Group 1: Denmark, Finland, Iceland, Ireland, Liechtenstein, Luxembourg, Norway, Sweden
€350
€420
€450
€520
Group 2: Austria, Belgium, Cyprus, France, Germany, Greece,  Italy, Netherlands, Malta, Portugal, Spain
€300
€370
€400
€470
Group 3: Bulgaria, Croatia, Czech Republic, Estonia, Latvia, Lithuania, Hungary, Poland, Romania, Serbia, Slovakia, Slovenia, North Macedonia, Turkey
€300
€370

€400

€470
Students going abroad in the 2020/21 academic year will be registered either to the 2018-20 Erasmus+ project or the 2019-21 project, resulting in different grant rates. The exact grant rate you will receive for your 2020/21 placement, will be confirmed in your Student Grant Agreement.
A supplementary grant will be paid to students on an Erasmus+ placement with an annual household income below £25,000. For an EU student to be eligible for this you must have been means-tested by SFE in Darlington. This supplementary grant is currently an additional €20 per month for a work placement and €120 per month for a study placement.
You will receive the Erasmus+ grant in pounds sterling, calculated at the exchange rate on the day Surrey receives the money from the National Agency.
The grant is a flat-rate payment, which means you will be awarded an amount per month of study or work calculated on a daily basis. If you study for one semester this will usually be three to five months, depending where you go. If you study for a full academic year it will be a maximum of 9 months. Work placements are more variable, but must be between two and 12 months.  
You use the grant to pay your living costs and travel abroad. You are not required to provide any receipts.
As an outgoing Erasmus+ student you will be covered by the University's Personal Accident and Travel Policy.  Further information on insurance can be obtained from the MySurrey Insurance web-page. There may be certain occasions and certain countries where you are not covered fully.  It is your responsibility to check this.
You will be paid 70% of your total grant entitlement once you have started your placement and completed the following documents*:
Grant Agreement
'Before the Mobility' section of the Learning Agreement
1st Online Linguistic Support (OLS) Assessment (if applicable)
Arrival Certificate
The balance is paid on completion of your period abroad and once all the forms and reports have been completed. This includes: 
'After the Mobility' section of the Learning Agreement
2nd OLS (if applicable)
EUSurvey
Transcript (study exchange only)
*Subject to the University receiving the funds from the National Agency. 
It is also part of your contractual requirement to assist at a 'Study Abroad Fair', organised by the Global Engagement Office in November, on your return. 
Language Support is offered for the following languages: Bulgarian, Croatian, Czech, Danish, Dutch, English, Estonian, Finnish, French, German, Greek, Hungarian, Irish Gaelic, Italian, Latvian, Lithuanian, Maltese, Polish, Portuguese, Romanian, Slovak, Slovenian, Spanish, or Swedish
If you study or work in a country where one of these languages is used, you will be required to take a language test, know as the Online Linguistic Support (OLS) assessment. Depending on your score, you will also be given access to a free on-line course to help you prepare and survive better in your host country. At the end of your stay you will be required to again take a test to see if you have improved your language ability. If you receive a C2 in your 1st OLS assessment, you will be exempt from completing the 2nd OLS assessment as a C2 is the highest result possible.   
The OLS is a great resource and tailored to your language ability. More details on the OLS can be found here.
In 2014, the Erasmus+ Student Network celebrated the launch of MapAbility platform, a ground-breaking online map designed to inform disabled students about the accessibility level of European Higher Education Institutions. Click here for details.
If you are a student with special needs please contact us as soon as possible as there are additional Erasmus+ grants we can access for you.
If you have any further questions, please contact us or come to 3rd floor, Senate House and we will be happy to help.
Celebrating 30 Years of Erasmus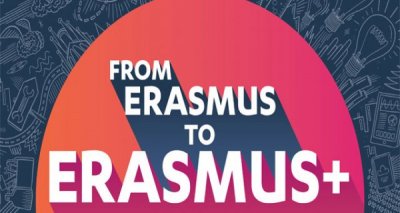 Since records began, the University of Surrey has sent more than 2,000 students to study or work to another part of the EU with Erasmus funding.
Read our Celebrating Erasmus feature.