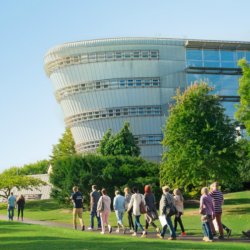 Alana Dowling
"The grounds of Stag Hill campus were so scenic, especially by the lake. The facilities were excellent, most notably at Surrey Sports Park."
Course
Veterinary Microbiology
Alana is now a PhD student at The Royal Veterinary College.
What attracted you to choose the University of Surrey and to study your course here?
The programme is delivered by leading experts, not only from the University of Surrey but also from two world-class veterinary microbiology institutions; the Pirbright Institute, and the Animal & Plant Health Agency (APHA).
What is your strongest memory of your time at Surrey – what do you picture first when you think of being here?
Spending time on campus was never a chore. The grounds of Stag Hill campus were so scenic, especially by the lake. The facilities were excellent, most notably at Surrey Sports Park.
What were the best things about your course?
The visits to the world reference laboratories of the APHA and Pirbright Institute, as they provided the opportunity to meet academics in the field of veterinary microbiology and to gain hands-on experience.
What do you do now and what do you find most enjoyable about your line of work?
I am now a PhD Student at the Royal Veterinary College and I am really enjoying my PhD project. The MSc Veterinary Microbiology course set me up perfectly for my PhD Studentship. I enjoy public engagement and also attending conferences and networking with fellow academics in the fields of veterinary microbiology and immunology.
How did you decide what career to go into? How did your time at Surrey help you to decide?
During both my undergraduate and my master's dissertation projects, I knew that I enjoyed research. I started watching out for advertised PhD Studentships whilst I was on the MSc Veterinary Microbiology programme and when I saw the abstract for my current PhD project I knew that it was the perfect project for me so I applied.
If I had not done the masters programme at Surrey, I would not have been an appropriate candidate for my PhD. The experience of visiting the APHA and Pirbright Institute, meeting the academics there and learning about their career paths also helped me to decide that continuing on to a PhD Studentship was a logical next step for me.
What aspects of being connected with the alumni network are most important or of most interest to you and why?
Staying in contact with other alumni of the MSc Veterinary Microbiology programme because the majority have remained in similar fields of work and to maintain those connections may be important for future collaborations.
What are your top tips for students aspiring to work in your profession?
If you want to follow on to a PhD then make sure that you choose wisely and pick the right one for you. You will have to spend the next three or four years on the PhD project so you need to be confident that you are making the right choice.
More about our degrees in the field of Veterinary Medicine and Science.