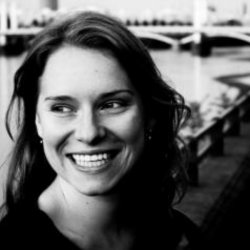 Alicja Furmanczyk
"I was given a range of optional subjects to choose from which gave me the opportunity to structure my degree, tailoring it to my own academic interests."
Alicja Furmanczyk, Client Executive at Millward Brown, tells us how her MA Translation Studies and Intercultural Communication helped her career.
What attracted you to choose Surrey and to study your course here?
I was interested in pursuing a Master's degree that would both elaborate on my previous knowledge and expand my horizons in other fields. Studying MA Translation Studies and Intercultural Communication offered just that. I was also given a range of optional subjects to choose from which gave me the opportunity to structure my degree, tailoring it to my own academic interests.
The University of Surrey was also well known for its credentials, both in terms of my subject area as well as general quality of teaching and employability, which was another reason I chose Surrey over other universities.
What is your strongest memory of your time at Surrey – what do you picture first when you think of being here?
My fondest memory is the helpfulness of teaching staff and the amazing academic support. I truly believe that the University offers a wealth of opportunities to learn and expand your knowledge (not just in your own academic field, but also for example in foreign languages), and the availability of staff and their willingness to help were exceptional.
What is the one thing you would say about Surrey, or the course you studied, to someone who doesn't know anything about it?
I feel that there always was someone to help, whether it was your lecturer or a librarian. My course offered a lot of flexibility and the structure of the modules allowed me to think in a lateral way, acquiring not only the subject knowledge but also learning new skills and different ways of solving problems – a great skill in a future workplace.
How did you change as a person during your time as a Surrey student, and how has your time here influenced your life and career since then?
Due to the flexibility of the course and a great value placed on personal development I believe I became a much more focused and independent person, realising that my future ultimately lies in my own hands. Being involved in various extra-curricular activities and taking advantage of what the University offers allowed me to improve my employability skills, gain new skills and in the long term decide on what I really want to do in terms of my professional life.
What do you find most enjoyable about your line of work and why?
I currently work as Client Executive for Millward Brown, a company that I had aspired to move into since my decision of getting into market research. I love the fact that in my line of work every day I draw on my knowledge of intercultural studies, knowledge and understanding of various cultures and foreign languages and the power that lies behind image, language and its usage in advertising. Although it's not always rosy and as with every job there are days that can be incredibly stressful, it's the fact that I do what I really want to do that makes all the difference. I'm passionate about marketing and advertising, and specifically finding out what works and what doesn't in the field of marketing and brand image – it's amazing to be actually working in a field where your own interests lie.
What are your top tips for students aspiring to work in your profession?
Never ever give up, to start with. A cliché but incredibly true – it took me a couple of years to be where I want to be and work for a company that I feel truly comfortable with.
Secondly, be interested in the world around you: listen, look, be curious – the world of advertising is ever changing and you need to know what makes people tick and companies and brands grow and connect with consumers. Don't be afraid to stop and just analyse what you see, be it an outdoor advert or a poster on a tube station  – think like a consumer, a marketing agency and a company that wants to sell the product/service; think from different angles. You never know but this piece of analysis might be helpful during your recruitment process. Being analytical and thinking on your feet is crucial. Knowledge of foreign cultures, languages and being open-minded are incredibly helpful too.
Finally, remember that your job search starts long before the day you submit your final piece of academic work – make sure you use your time at university to work on both your professional and personal development so that you can demonstrate to your future employer that you are an individual with a wide range of skills and interests.