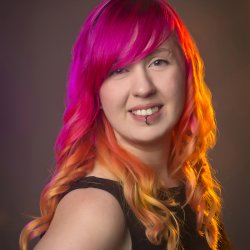 Alyx Jones
Surrey was my absolute dream choice of University. I only had one back up option but I had my heart set on coming here; the campus is beautiful but the Creative Music Technology course was what really drew me in. It had the right balance of teaching hours versus time to hone our practice, as well as lots of module options that really gave me the flexibility to explore everything I was interested in.
Surrey just feels like home. It was the first time in my life I really felt like I was free to pursue my own interests and career goals. Most of the time studying at Surrey I really did have to pinch myself to make sure I wasn't dreaming. It was a feeling of being immersed in everything I loved, being around lots of live music, like-minded people and the freedom to express myself.
The course
Once you pass the main core modules in the first year, the doors are really flung wide open for each student to study their own interests. It was a struggle to pick module options because there were so many good choices, and I really felt supported by lecturers to cater my study and assignments to my main interest in game audio. Having said that, some of the more wildcard options like World Music, Digital Improvisation and Music, Politics and Society, really had a huge impact on me. If University doesn't make you question yourself and make you see things in a whole new light, they're not doing a good job. It's not all about how to use a DAW!
I really can't praise the lecturers enough as well - it's their hard work and dedication to the students that makes the degree so valuable
Life after Surrey
I work at a company called Liquid Violet. We are a studio that provide voice production for video games, based in London. I originally started there as a freelance dialogue editor three years ago, but have recently been promoted to Post Production Lead. My absolute career highlight is working on the game 'Elden Ring' as a Dialogue Editor. Having been a part of the games production for years, from sitting in on recording sessions, to then taking over the post-production process, it's been quite an experience. I've worked on the below projects:
Elden Ring - Dialogue Editor (English Voice Production)
(2022) - FromSoftware
(Available on Playstation, Xbox and PC)
Arcane - UK English Voice Production
(2021) - Riot
(Available on Netflix)
Bloodhunt - Dialogue Editor
(2021) - Sharkmob}
(Available on PS5 and PC)
Surrey Career help
I explored a lot of different options at Surrey, but it was during my undergraduate degree that I realised my love for games and of audio could actually connect and become a career. The University's based in Guildford, close to high profile games companies, and a wonderful community has sprung up around this. We had a session with a visiting Surrey graduate who now works in the games industry and they expressed the importance of networking. It was valuable advice, so I started going to lots of events around London and Guildford and taking part in game jams.
Your advice
Having the basic skills in game audio are great, but a lot of it does come down to getting yourself out there, networking and also just being a genuinely helpful person who is easy to work with. Be proactive, work on a good showreel, but use your time at university to collaborate with other students and your local community too.
Try not to focus on your marks too much, because in a year you won't even remember them. You will remember what you learned and what you created as part of your studies. If you lay the groundwork as a student, life after University will fall into place.