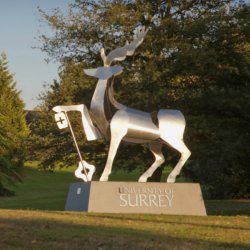 Anastasia Efremenkova
"It is great fun and everyone should undertake an Erasmus study abroad or work abroad programme at least once during their academic life."
Study abroad location
Modul University, Vienna
What subject did you study at the University of Surrey and what year did you graduate?
I have studied BSc Tourism Management and I have graduated in July 2014.
What were the best things about your course?
The University of Surrey offers the best BSc and MSc courses in Tourism and Hospitality. The lecturers are exceptionally professional, knowledgeable and approachable. Every lecture I had could be compared to an exciting journey into the past or the future or a debate about the present.
The diversity of people on the course was also very impressive. There were people who had just completed their A-Levels and those who have been working for an extensive period of time. It has allowed us to consider different opinions and viewpoints.
The social side of my experience at Surrey has been wonderful. There were a number of events organised by the course leaders throughout the academic year. The Students' Union has been run by most inspiring and cheerful people and they organised an enormous number of events ranging from trips to Amsterdam and Brussels and local visits to theatre and hiking in the woods nearby the university.
Why did you decide to take an Erasmus study/work abroad exchange?
I have always had a passion for travel and for meeting new people. This is why I have decided to study Tourism Management in the first place.
Where did you go and what did you do on the Erasmus scheme?
I went to Modul University in Vienna and studied on the BBA Tourism Management programme.
How did your Erasmus experience help you develop personally or professionally during your time as a Surrey student, and has this influenced your choice of career?
It has been an exceptional opportunity to go on an Erasmus program. It has allowed me to further broaden my understanding of various cultures, meet exciting people and find out more about the hospitality and tourism industry in Austria and in Europe.
I participated in a number of societies and clubs as well as taking German as an extra. It has been a great opportunity to develop my German language skills.
I had the opportunity to study alongside students from various levels and it made the experience even more valuable.
I have undertaken Hotel Operations and Food and Beverage Management modules at Modul. The lecturer - Florian Aubke - has been one of the most inspiring and knowledgeable people I have ever met. I have become very interested in working in the hospitality industry in the future.
After I graduated, I joined Marriott Park Lane as Executive Lounge Supervisor and it has been a great experience.
A number of my friends from Modul University have decided to go on an Erasmus exchange semester to University of Surrey and it has been great to have the opportunity to guide and support them throughout their semester abroad at Surrey.
I have, subsequently, decided to focus on real estate investment as my career path. This change does have a strong link to my previous studies at Modul University as that's where I first studied an Investment module which also was very interesting for me but too challenging at the time.
What do you do now and what do you find most enjoyable about your line of work?
I am currently studying for my MSc in Finance and Accounting and I work part-time at an exciting food delivery start-up - HelloFresh as Customer Service Executive. I have previously worked in hospitality and in real estate for 3 years.
Most of all I enjoy the interaction with clients and helping them to resolve arising issues. I have a strong emotional intelligence and it allows me to build a long-lasting business relationships with people. It is also very satisfying to be able to influence the lives of others and to be able to leave a smile on clients' face.
I believe that my passion for meeting new people and in building relations with them has allowed me to progress within the service industry. I have been awarded the Individual Gold and have been named the best Agent of the year 2016 according to RaterAgent rating website while working for Life Residential.
How can students hoping to work in your profession make the most of their time at Surrey?
Make sure you sign up to a few different societies and club such as Surrey Hospitality Entrepreneurs Society and the Food and Wine Society. Be open to meeting new people and make lifelong connections.
Embrace and mix up the academic life and the social life - Surrey is the best place to work hard and play hard. Enjoy every moment of your student life at Surrey as it will eventually finish. I really miss University of Surrey and often come to visit the lecturers.
I have left a big part of my heart with the University of Surrey and I am sure you will too! #ForeverSurrey
What advice would you give to current students thinking about a study/work abroad placement?
Choose the country or institution you are planning to go to wisely. Assess the courses the institutions offer and the accommodation facilities - it will help you to plan ahead and settle in nicely once you have arrived.
Make sure you are mentally prepared to travel somewhere far away and start building your life there from the scratch.
It is an exciting opportunity to challenge yourself and open yourself up to a completely new world and adventures. It is great fun and everyone should undertake an Erasmus study abroad or work abroad programme at least once during their academic life.
Discover more about our hospitality, events, tourism and transport programmes, including our BSc International Tourism Management.