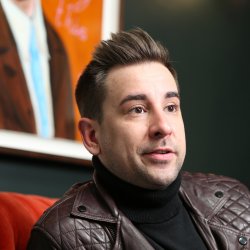 Andrew Keates
"I'm very thankful to the staff and my friends who always found time to help shape my craft."
Andrew graduated from Guildford School of Acting (GSA) with a BA in Musical Theatre in 2009. He is an acclaimed theatre director who has directed and produced many productions in the West End and regionally, as well as taught internationally. He co-ran the Landor Theatre for three years and is the current Artistic Director of Arion Productions – a theatre company dedicated to giving opportunities to theatre-makers. He is well known for directing plays and musicals that give social and ethnic minority groups a voice and is a champion for HIV awareness and acceptance, notably working with composers such as Howard Goodall & Stephen Flaherty and playwrights such as Martin Sherman, William M. Hoffman and David Henry Hwang. 
Andrew is one of the Vice-Chancellor's Young Achievers of the Year for 2018 for his significant contribution to theatre and campaigning for both HIV awareness and empowering BAME artists within the performing arts.
What does it mean to you to win one of the Young Achievers Awards?
I nearly fell off my chair! As a student I was not always popular with the staff because I was very inquisitive and always asked questions and challenged views! I feel honoured that the University has chosen me – in particular for my work campaigning for HIV awareness and acceptance and ethnic minority involvement in the arts has been recognised.
Why did you want to work in the theatre?
I always knew I wanted to be a director - as a young teenager boy the secret things under my bed were plays and librettos! I was drawn to stories by gay authors, such as Bent by Martin Sherman and As Is by Williams M Hoffman. Martin Sherman is a hero of mine and it was his work that gave me the courage to come out. There just weren't any gay role models for me growing up, so instead I sought them out in literature and productions. Years later, Sherman and Hoffman's plays were the ones that I have been fortunate to stage and Bent was my first as director to bring me to national attention from theatre critics. My audition monologue for GSA was from As Is.
What attracted me to performing arts was my need to understand the world around me using empathy. When you see a production on stage, you must bring yourself to it.  I've always had an intense sense of curiosity and my mum taught me from a young age to question the status quo and to be true to myself and kind to others.
What were the best things about your course? 
I think the tutors who always found time to enjoy discussing theatre with me and either answer my questions or would point me in the direction of where I needed to look for an answer. I worry that some institutions just want their students to do what they're told, which might work for some disciplines, but we work in the arts and there are no right answers, only opinions. I'm very thankful to the staff and my friends who always found time to help shape my craft.  
What do you enjoy about your job?
I enjoy bringing stories that can inspire change and thoughtfulness about a social issue that perhaps audiences might not have considered before, whilst bringing together a company or tribe of like-minded artists to do so.
What are your highlights?
I have many highlights, but my productions of As Is really promoted HIV awareness and acceptance in London.  When it was written, As Is was the first commercial AIDS play. For the first production at the Finborough Theatre, I made a pact with the cast that everyone should be tested for HIV and when it moved to the West End, we were the first production to offer rapid HIV testing to the entire audience in collaboration with 56 Dean St, the Terrence Higgins Trust and others. There is still a stigma about HIV but I do believe theatre can change the world.
On a personal level, this production certainly changed my life. Having encouraged cast members to take the test, I realised at the end of the run that I hadn't had the test myself. Just before the cast party, I went to the clinic and discovered I was HIV positive. I still went to the cast party and remained silent coming to terms with the years of HIV stigma that I had heard around me as a gay man. It was a real shock but it strengthened my determination to continue campaigning. I announced my HIV status live on stage at the enormous Dominium Theatre in West End Eurovision to help the Make A Difference Trust. Since that day, I must have met with thousands of people all in crisis because of stigma. We need to educate others that those on effective HIV treatment cannot pass the virus on and should live normal, healthy lifestyles. It's not a death sentence anymore. And it certainly isn't something anyone should ever feel ashamed of.
Tell us about your campaign to have a bigger ethnic minority presence in the theatre?
As a young gay boy growing up on a council estate, I encountered constant homophobia and abuse. I know what it's like to be abused or attacked for something I have no control over such as my sexuality or class. Those early experiences have made me very sensitive to injustice.
Now as a white man with the privilege of being given opportunities, my voice is listened to in a way that many ethnic and social minority groups just aren't. I will not tolerate seeing Caucasian actors taking roles that should be fulfilled by actors of a certain racial heritage and have even organised protests outside theatres that have cast Caucasian actors for a play set in ancient China! The mainstream portrays a predominantly white, heterosexual, male view of the world and anyone need only look out their window to see that the world is just not like that. I am committed to ensure that ethnic and social minority groups are no longer invisible on our stages and beyond.
Who is your role model?
My mum. I grew up on a rough council estate in a single parent family and my mum was a hard-working nurse who also ran an animal sanctuary! We were raised to question and always stand up for other people and ourselves. She has a very strong moral compass, which she instilled in us and encouraged us to work hard too. She's my hero.
What are you working on at the moment?
Quite a lot – but sadly I can't say what yet! However, last year Arion Productions set up The Show People Podcast, a free biweekly podcast that shines a spotlight on the UK's performing arts industry and those dedicated to their craft, interviewing highly successful theatremakers about their lives and careers, as well as covering the latest news, industry issues and showcasing theatrical talent.
I have been concerned about those that are either time-poor or cannot afford to pay for classes or work on small-scale productions yet want access to successful professionals. The Show People Podcast is a free, multi-platform resource for anyone to use anytime, who wants to listen, learn and laugh with professionals and hopefully something that, if it is valued, might attract some donations that we can invest into projects produced by Arion Productions and create even more opportunities for theatre-makers.
What are you aspirations?
To never stop working on highly artistic productions – whether that be musical theatre or plays. I've really cut my teeth since leaving GSA and would hope one day after committing my life to this industry that I will be given a world-stage to work on such as the National Theatre, Royal Court, The Young Vic, Old Vic or The Lincoln Centre in America.