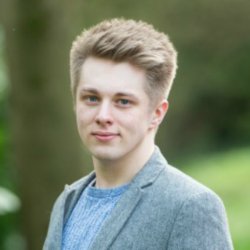 Andy Plom
"I would definitely recommend a Professional Training placement. It's incredible. It totally changed me as a person and it also got me a job offer."
Course
Theatre and Performance
Placement company
96.4 Eagle Radio
"When I was applying for UCAS, the University Of Surrey was the only University on my form. It was a big risk doing that, but the truth is that it was the only place I could see myself achieving the things I wanted to achieve.
I was really attracted to the course due to the lecturers on the Theatre and Performance programme, the subject matter of the course and the abundance of opportunities for extra curricular activity. The option of a Professional Training placement was also open to me, which I took at 96.4 Eagle Radio in Guildford.
When I came to an Open Day, I got completely overwhelmed by the combination of natural beauty and sleek modernity on the campus. Once I spoke to the Theatre and Performance lecturers, I immediately idolised their knowledge and felt so comforted by the manner with which they talked me through the course. For my course, there was a further Applicant Day where we got to experience a day in the life of a theatre student. It completely blew me away, thinking that if I worked hard enough at A Levels, this could be my life.
I suddenly realised, during college, that theatre had always been the thing I truly loved but I found the idea of drama school too restrictive. Drama school vocationally trains you in one specific type of Theatre and I wasn't ready for that. Instead, I found this programme, which did exactly what I wanted it to do. It introduces its students to a huge spectrum of things within the Theatre and Performance world, has a very strong focus on you as an individual and allows you to participate in lots of extra curricular activities to personally develop yourself. Incidentally, over the course of my four years, I've had more than enough opportunities to compose music for shows and get involved in musicianship within Theatre, which is proof that this course allows you to find your path and gives you the tools you need to follow it.
"This course is a holistic experience, it takes you on a huge journey of personal development, transforming you from a budding student into a rounded individual."
You will never meet staff members more dedicated, devoted and passionate than those we're graced with in the Theatre and Performance Department. They consistently prove that they are willing to go above and beyond to enhance your personalised experience, taking a really genuine interest in your ideas and journey. Facilities wise, we have multiple performance spaces on campus and a short walk from campus will take you to Guildford's Yvonne Arnaud, G Live and The Electric Theatre.
Extra curricular activities have been at the heart of my surrey experience. I've taken the opportunity to dive head first into the extra curricular activities and student run societies, which I can only do because this course embraces and encourages you to do so. I've learn just as much in my personal endeavours at University as I have in seminars.
Guildford is a lovely place, there's all sorts of great stuff going on. I'll start by mentioning Surrey Sports Park: If you come here, get a membership! It's a state-of-the-art sports facility, used by olympians and professional athletes alike. There's loads of restaurants in town, a good nightlife, beautiful parks and castles, a really scenic river work and coffee shops galore. What's not to like? Long story short - if the campus life isn't enough, the town holds plenty of secrets for you to discover and if the town life isn't enough for you, its only half an hour on the train to London!
I did a Professional Training placement at 96.4 Eagle Radio for a year and it was really great! I did lots of great things whilst at Eagle, in fact it's fair to say that they completely changed my life.
Whilst I was there I was given the job of managing the 'Online Social Media Law & Ethics' course. I was trained as a professional media law tutor and taught over 10,000 children in Surrey. I also put together a team of tutors and called schools to book them in and put together my own Rota system. I also Pioneered a new video department by using equipment that the station already had. I worked with other members of the team to re-design the YouTube channel and then singlehandedly recorded, edited and uploaded many videos to various forms of social media promoting the work of the station. Some videos were viewed over 10,000 times. As a result, I became very comfortable with making short videos. I even got to interview Michael Gove, meet Peter Andre and Bob Geldof!
I would definitely recommend a Professional Training placment. It's incredible. It totally changed me as a person and it also got me a job offer for when I graduate from University Of Surrey. The thing is, a degree teaches you how an industry works, but you can't understand how you fit into that industry until you go out there and throw yourself into it.
I think I have completely transformed since starting at Surrey. When I begun, I was a nervous kid with no self confidence, no dreams, no ambitions and no idea what I wanted to do with my life. Soon I will graduate, with huge dreams, a new found drive and passion, a professional work ethic, a rounded pool of academia to support my artistic ventures and an abundance of experience. Lets not leave out the most important thing that I've gained as well - people! Friends, colleagues, collaborators and more."
Discover more about our performing arts programmes, including our BA Theatre and Performance.