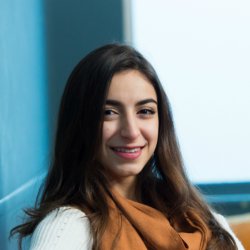 Aya Asali
"There are no limits to socialising at Surrey, everybody is constantly accepting and welcoming. Because of this wonderful community, it always feels safe and supportive."
Course
Politics and Economics
"Surrey, unlike most universities, provides the opportunity for students to have a personal relationship with their lecturers. Seminars in politics include discussions and debates that apply knowledge to contemporary events, and tutorials in economics allow students to get a step-by-step guide to solving questions.
Politics is a very interactive, stimulating, and diverse subject. The best part about politics is the way our lecturers embrace the fact that there is no right or wrong answer to any questions, but only strong or weak arguments.
We are taught theory and its application into the real world, and we are taught to be balanced and unbiased, that there is no flawless philosophy. In contrast with economics, where there are only right or wrong answers and unidimensional questions, politics provides a broad scope of possibilities, pushing us to explore the paths we find interesting.
"Together, politics and economics are a good mix, where one requires calculations and the other requires research, both excellent skills to gain and both applicable to various fields."
We aren't only tested using exams, but also essays, group presentations and statistical analysis.
The staff are incredibly friendly, engaging and enthusiastic about their modules. They each have different teaching styles and often relate the material to things we can identify with, such as modern events, crises, movies and memes. They create a comfortable learning environment by encouraging us to discuss our perspectives openly and debate with one another.
As for the facilities, we have access to all reading material, PowerPoint slides, and often recordings of the lectures in addition to practice questions, exercises, past examinations and the life-saving Libraryonline resources. For politics, websites and Google only provide a shallow platform for research, most of my essays are cited by the Library's wonderful online selection of articles and books. They also made the program used for statistical analysis, STATA, accessible on our personal laptops off campus, allowing us to work on our assignments at home, which is incredibly practical.
I'm in the Surrey Taekwondo Society, Latin and Ballroom Dance Society, Music and Drama Society, and I am Head of Marketing of the Friends of Palestine Society.
The Taekwondo Society consists of physically challenging training, national tournaments, and wonderful friendships. Although we fight individually, we are always competing as a team, constantly supporting and encouraging each other. As a black-belt from Jordan, I'm very lucky to be able to continue training with such a professional master and team that allows me to release tension and stress. My best moment at Surrey was during a Taekwondo tournament hosted by Imperial University in London. I entered the first fight and won by a large majority, then entered the second and final fight 15 minutes later, with little energy and against a really challenging player. Throughout the first round, I was severely losing. However, when I heard the loud voices of all my teammates and master calling my name, I felt a rush of energy come over me. In the last few seconds of the fight, I got more points and won the golden medal. My teammates roared with excitement, patting me on the back and high-fiving me. That moment not only conquered my fear of sparring and gave me the medal I worked hard for, but finally gave me the feeling of being part of a team.
"The best things about Surrey are the societies and the community. I love that I never feel alone."
I can walk to lectures alone and leave with friends, go shopping at the Friary and meet some course mates, or go out with some friends and leave with new ones. I found many people from the same country I come from, I can mingle with them in the Arabic Society events then attend the Asian Society's winter ball.
There are no limits to socialising, everybody is constantly accepting and welcoming. Because of this wonderful community, it always feels safe and supportive.
To study, I never stick to one place. I can study at Starbucks with a friend, in the politics common room where I can always pop by my lecturers' offices to bombard them with questions, or on either floor of the Library. For socialising, my friends and I enjoy going to the Front Room to play pool and ping pong, or to Wates house when they have a special menu or event, as well as Lakeside for a cup of coffee in the morning or between lectures. We also like to grab some food from Simply Fresh and have picnics/photoshoots by the lake when it's warm, and when it's cold, we bring our own food and sit at Hillside, the options are quite endless.
Given that my degree is rather broad, I can enter several fields. My course's provision of a diverse set of skills is helpful in widening my reach, and so I look forward to discovering where it will take me."
Discover our politics degrees, including our BSc Politics and Economics.