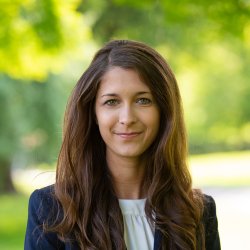 Birgit Altrichter
"Surrey is a fantastic place to study for a PhD. Not only are the academic facilities cutting-edge, the campus also has a special environment, which stimulates collaboration." 
Course
Management and Business PhD
Research project
An analysis of (dis-) continued technology usage 
"After several successful years of corporate experience in various senior marketing consulting roles, I felt the time was right to return to academia. I chose to study at Surrey for several reasons. For me, the most important factors were the cutting-edge research the Department was working on, combined with the very friendly and collaborative environment. PhD students are treated as junior academic staff and the Department of Marketing and Retail Management strives to really integrate us.
"After visiting the campus and meeting with my supervisor, I just knew right away that this would be the right place to study for my PhD."
My research interest focuses on consumer behaviour in the digital economy and predominately on technology (dis-) continuance in various marketing contexts. I am passionate about this research topic for several reasons. Today, new technologies and digital services are constantly being developed, however, our understanding of why we continue or discontinue using some of these devices and services is quite limited. At the same time, continued usage is key for a sustainable business of technology providers.
Reflecting on my journey after the first year of my Management and Business PhD at Surrey I believe that the University provides its PhD students with valuable opportunities to learn, develop and grow. The University offers comprehensive training in the form of formal classes during the first year of a PhD, and a wide range of research seminars and optional courses. 
"I believe that the University prepares us well for the competitive academic job market and I am grateful for the opportunities we get to learn from senior academic staff."
Aside from the excellent academic setting, the Surrey is a great place to be – the University has a beautiful green campus with many different spaces to study, socialise and relax. Surrey Sports Park offers excellent facilities for a very reasonable price and there are countless of opportunities to get involved in activities on campus. Guildford also has good links to central London, but is at the same time surrounded by scenic nature reserves and does not get too crowded – essentially the perfect location for a university.
Excellent support and guidance from a supervisor is important in order to be a successful PhD student. I am very grateful to have a supervisor, who is very engaged, appreciates discussions on my research, provides valuable feedback on written work, has a strong network of established academics and practitioners alike and is never hesitant to share these contacts with us.
Having the opportunity to work every day on a research topic I am passionate about and observing how this initial idea keeps developing into a solid, rigorous research project is what I enjoy the most about my PhD. A PhD at Surrey provides a lot of freedom in terms of how we move forward, but at the same time guidance and support is available at any time when I need it."
The warm welcome I received during my first few weeks at the University made such a big difference to me. Both my departmental colleagues as well as my PhD colleagues in our shared office are very open-minded and supportive. Studying for a PhD is indeed hard work – having a supportive environment and making friends along the way makes this journey truly enjoyable.
Overall, Surrey is a fantastic place to study for a PhD. Not only are the academic facilities cutting-edge, the campus also has a special environment, which stimulates collaboration. The best way to get a glimpse of what this means is to come visit the campus!"
Discover more about our courses in business, marketing and management, including our PhD Management and Business.