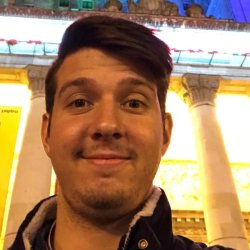 Boran Shenhuy
"This year I learnt to set myself milestones, then focus and achieve rather than dream about who I could be." 
Course
Social Research Methods MSc
"After completing my BSc Sociology course at Surrey, I wanted to continue my studies by focusing more on research methods. Being the oldest MSc course of its kind in the UK, Surrey offers a well-established study into social research methods.
The staff at Surrey excel in both teaching and research by keeping their lectures and seminars engaging and always being friendly and helpful.The Department of Sociology has its very own computer lab where most of the specialised teaching takes place. Aside from this, the University also has well-equipped study spaces in the Library, and the MySurrey Hive which provides a more informal study place where I can work on my laptop. 
From Surrey Sports Park, to the calm yet lively Guildford town centre, the University provides a variety of activities for people interested in different things. The Sports Park is well equipped for a variety of sports from swimming, to rugby and lacrosse. I have used the facilities for my powerlifting training. Surrey also has its own student-run social nights at Rubix, called 'Citrus and Flirt'. With different themes, these nights out are a great way to celebrate finishing assignments and have a great time! For those who like calmer activities, there are several coffee shops around campus where you can grab a latte and sit by the lake to enjoy the beautiful scenery and relax with friends.
I think I have changed quite a lot since I started at Surrey. Although I've always known the career I wanted to pursue, this year I learnt to set myself milestones, then focus and achieve rather than dream about who I could be. I have won two employability awards, received high grades for my modules and focused on my physical and mental health. Coming from a refugee family on a small divided island, I am proud of how much I have worked for my community and myself, and the determination I have shown.
This year I joined the University of Surrey's Weightlifting Club which has been like my university family. Having suffered from mental health issues, the club provided me with a safe space where I could work on setting milestones to achieve my best self, and getting the support to do so. I can now lift nearly three times the weight I could at the start of the year and it would not have been possible without the club. Having consistently worked on developing myself, I want to compete professionally next year.
I think the training I took with the Weightlifting Club and the amazing role models at the Department of Sociology have helped me realise my full potential, and I am grateful that I chose Surrey and met these incredible people.
Following my dissertation, I will start my new job at the Office for National Statistics as a Research Officer later this year. The Employability and Careers Centre has excellent resources and supports students with their career preparation, by giving advice on their professional profiles as well as providing mock interviews, and checking CVs and cover letters. They also provide a variety of resources for tests, assessment centres and similar job application processes which has helped me understand what the required soft skills in a job can be and how to demonstrate that I have these skills. The Centre is an excellent part of the University for anyone who wants to follow a certain career path, as well as those who want to consider different career options.
For five years Surrey has been my second home, and I chose to continue with my masters education at the same university because of the Department's excellent teaching and research and the different opportunities Surrey provides to its students to make them more employable. However, I believe that my time at Surrey would not have been the same if I did not focus on my personal development alongside my studies as I am here to enjoy my time and grow to my full potential. To this end, Team Surrey and different societies on campus provide an amazing atmosphere for everyone who want to stay active and social. I am extremely grateful for the different people I have met throughout my degree that have helped me realise this."
Discover more about our sociology courses, including our MSc Social Research Methods.