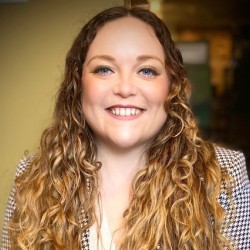 Chelsea Sparks
"The teaching staff at Surrey were phenomenal and clearly all enjoyed their jobs, which shone through during lectures and seminars. The teaching allowed me to pick up complex legal principles more easily. Great teaching really does make all the difference."
What attracted you to choose the University of Surrey and to study your course here?
I visited campus and thought it looked like a lovely place to study and live during my time at university. I was impressed with the School of Law and the opportunities to undertake a placement year.
What's your strongest memory of your time at Surrey?
My entire memory of my time at Surrey is positive. I was finally able to focus solely on a subject that interested me, and I felt excited to take a big step towards the beginning of my career.
What do you do now and what do you find most enjoyable about your work? Have there been any highlights?
I am a qualified New York attorney and Barrister of England and Wales. My main areas of practice are property, media and insolvency law, although as a civil practitioner I do occasionally work in other areas.
Working as a barrister has a lot of freedom which is something that I really appreciate about my job. Every day is different and, as I am self-employed, I can manage my own diary and organise my working week. If I want time off for a holiday or to attend to personal matters I have no restraints and no 'boss' to answer to.
My best career highlight was when I was appearing in the High Court on a particularly interesting defamation matter. The grandeur of the court rooms in the High Court really allowed it to sink in that I had - finally - qualified as a barrister.
How did your time at Surrey help you choose what career to go into?
Surrey organised a talk from Barbri International, a company that assists candidates to pass the New York Bar. I went to the talk and by the end of it I knew I wanted to qualify as an attorney and then transfer to the Bar of England and Wales. The rest is history!
What is your advice for students aspiring to work in your profession?
Network, network, network. I've had so many opportunities arise out of conversations with professionals in the legal industry. The legal sector is small world, and you never know when a conversation you had, or a business card you gave out, might result in a great opportunity.
Get as much experience as you can, whenever you can. Continually work on building up your CV; the more you add the easier your interviews will become, because you can back up the skills you say you have with real life legal experience. Undertaking a placement year really assisted me and I would recommend doing a placement to anyone who is considering it.
Finally, do you have any other comments you'd like to offer about your time at Surrey or life after university?
Enjoy every moment. If you are studying law, it can be easy to become overwhelmed with how intense the course can be, but remember to take it all in. These will hopefully be some of the best years of your life.