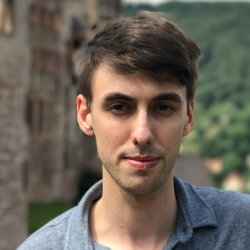 Christian Schmitt
"My supervisor has provided me a great deal of support during my PhD studies. She further encourages me to pursue projects beyond my main thesis, such as publications and conference presentations."
"I am personally interested in leadership as an interdisciplinary topic that relates to my academic background in both business and language as well as to my personal experience as the co-founder of a start-up company. By undertaking the PhD, I want to deepen my understanding of how leadership is actually accomplished in discourse. I had previously tackled the topic in my MA dissertation, yet felt that I had merely scratched the surface and that there was much more to explore.
I studied business administration for my undergraduate studies as part of a double degree programme in Germany and Finland. I later completed my postgraduate studies at the University of Surrey, where I was enrolled in the MA Intercultural Communication with International Business.
My decision to pursue my PhD at Surrey was motivated by my postgraduate studies, during which I grew fond of the academic environment offered by the University. During that time, I also met my supervisor, who encouraged me towards further research in my subject area. Another major factor for my decision was that Surrey is highly flexible in that it allows me to complete my studies part-time and off-campus.
During my MA studies, I greatly enjoyed the student community at Surrey. I liked living in Manor Park as a sort of 'student village' and made many friends in my degree and in shared accommodation, with some of whom I am still in regular contact today. I also enjoyed Guildford's vast fields and forests as places for walks.
Since the start of my PhD, I have been situated in Changzhou, China, where I have been teaching at a local university. For me this constitutes a means of funding, as well as a means of gathering experience that will be helpful to my later career. I have experienced many cultural activities, such as celebrating Spring Festival with a Chinese family. I have also undertaken short trips to cities such as Beijing, Shanghai and Wuhu and have visited the wedding of my former Surrey flatmate in Yueyang. While I generally enjoy this constellation, I miss some of the exchanges that I so fondly recall from my postgraduate studies, such as discussing drafts with other Surrey students over a coffee.
My supervisor has provided me a great deal of support during my PhD studies. Her feedback on my drafts, in writing or via video conference, is immensely valuable to my progress. My supervisor has immensely helped my academic development by intellectually challenging my thoughts and approaches towards a critical perspective. She further encourages me to pursue projects beyond my main thesis, such as publications and conference presentations.
"The staff at the University of Surrey provides me with a great deal of support, which reduces many of the challenges of off-campus PhD research"
As I cannot visit the Library in person, inter-library loans are provided to me in electronic format. While I usually cannot participate in workshops at Surrey, due to being in a different time zone, recorded workshops are made available to me via Panopto.
At the moment, my supervisor and I are working on a joint publication. My supervisor has further put me in touch with local scholars in my discipline, with whom I plan to meet over the following months. While I am still in the beginning of my PhD and thus most focused on passing the confirmation viva, I am sure that there will be more opportunities for collaboration in the future.
I would say that for now my 'proudest' accomplishment is the continuous improvement of my Chinese language skills. For this, I try to find time for daily practice between research and work, which requires a deal of discipline. Although I am still a beginner, I can feel my progress in the daily interactions with the locals and hope to reach fluency one day. Upon completing my PhD, I hope that I will be able to look back on a record of publications by which I contributed to my research area.
Following my PhD at Surrey, I am interested in pursuing a career in higher education, for which my PhD research and teaching job will provide me valuable experience. I also plan to further follow my interest in entrepreneurship and explore business opportunities as they unfold along my path."
Discover more about our language, communication and translation studies courses, including our PhD Linguistics.