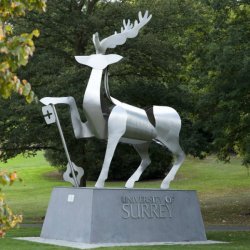 Christopher Lord
"Surrey equipped me for working life as a whole; I consider it a stepping stone between school and a career if you like."
Course
Aerospace Engineering
"I studied aerospace and space engineering at Surrey, and am now a Spacecraft Propulsion Test Engineer at Astrium.
I wanted to come to Surrey because of the wide range of available courses, as well as the size and convenient location of the campus.
My strongest memory of being here would have to be the Students' Union – whilst studying I worked as part of their bar staff and stage crew so I spent a lot of time there.
Surrey's campus has everything you could need or want as a student, all in one place, with plenty of greenery to boot!
I changed a lot throughout my time at university. For me, university was the perfect stepping stone between school and a career and Surrey equipped me well for working life as I was able to apply theory in practical experiments throughout my degrees.
My career highlights so far include travelling to French Guiana to prepare the Gaia satellite for launch; watching the take-off of an Ariane 5 rocket (pictured) and looking at a Soyez rocket up close.
My top tip for anyone looking to study electronic engineering is to never stop asking questions. A quote I try and live by is: "Aim for the moon; even if you miss, you'll be among the stars."
Discover more about our mechanical engineering programmes, including our BEng Aerospace Engineering, or our MSc Space Engineering programme.