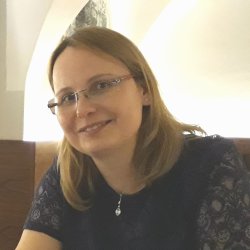 Darina Svobodova
"The University of Surrey is an exciting place to study, everyone I have met in the School of Hospitality and Tourism embodies hospitality."
Course
Hospitality, Tourism, Transport and Events PhD
Research project
Attracting and retaining labour supply
"Five years ago I began to think about PhD studies and, right from the beginning, I was hoping to study at the University of Surrey. My main criterion was a university in an English-speaking country with excellent teaching and research in Hospitality and Tourism. 
I have more than 20 years of experience in hospitality, tourism and retail, which earned me my current job as a university lecturer in Hospitality, Marketing, Management and Human resources. Even after so many years in the industry, I never stop enjoying it, and I think that is an indicator to progress further, improve my knowledge and to look at this fantastic field from a new angle, which my PhD will undoubtedly allow me to do. 
Even though I'm only at the very beginning, I'm amazed by the whole process. Everyone I have met so far is very easy to approach, and what is important to me is the helpful and friendly atmosphere that exists everywhere, with an endless opportunities to ask anything and seek advice.
"From my point of view, the University offers perfect conditions for students to develop."
I'm proud to have been admitted to Surrey many years after finishing my masters degree and I'm grateful to have been awarded a scholarship. I much appreciate this support, and I look forward to what achievements this will help me reach in the future. I'm keen for my research to contribute to the knowledge within the field.
From the perspective of a part-time student, Guildford is an ideal location for me. It's close to the train station, connections to Heathrow and Gatwick airports are fast, and the centre of London is only 35 minutes by train. When I was in the library for the first time, I was impressed by it. It took me a while to figure out the remote access to the library, and the online workshop site, but now I enjoy access to infinite amounts of information and resources. The University's on-campus shops, restaurants, cafés, and other services are also  a fantastic bonus that will allow me to concentrate fully on my studies when I'm in Guildford.
The University of Surrey is an exciting place to study, everyone I have met in the School of Hospitality and Tourism embodies 'hospitality'. Although I know that a challenging journey awaits me, I am thrilled that I have set out and I do not doubt that Surrey this is the right place. I would recommend Surrey to everyone."
Discover our courses in hospitality, events, tourism and transport including our PhD Hospitality and Tourism Management.