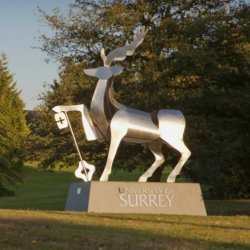 Dr Kathleen McGuire
Kathleen, who graduated with a Masters in Music in 1995, has enjoyed more than three decades of music-making in six countries, working with orchestras, choirs, ballet, opera and musical theatre, including performances at the Sydney Opera House, Carnegie Hall and the Kennedy Center. She was awarded a Vice-Chancellor's Alumni Achievement Award for 2016.
Course
Music (Conducting)
What does it mean to you to be chosen as one of Surrey's Alumni Achievement Award winners?
I am delighted to have been chosen as an inaugural recipient of Surrey's Alumni Achievement Awards. More than 20 years after graduating, it means a lot to make this new connection to Surrey, to share what I've learned since 1995, and to give back to my alma mater some of what I gained from my experiences all those years ago.
What attracted you to choose the University of Surrey and to study here?
I was the recipient of a Rotary International Ambassadorial Fellowship, which included some funding.
I sought a university in which I could potentially complete a higher degree in the duration of one year, which was affordable within my budget, which welcomed overseas students, and which would provide me with the expert tuition I sought in order to advance my career. UoS ticked all the boxes.
What were the best things about your course? 
The best things about the course were the many opportunities I was afforded, which enabled me to grow as a conductor. As the sole postgraduate conducting student, I had many opportunities within my master's degree course work, in the wider university community, and in England generally.
Within the course, opportunities included conducting all of the concerto performances with the University orchestra for final-year Bachelor of Music students; conducting and participating in rehearsals and performances of the University's choirs and orchestras; and receiving training from excellent lecturers, including Nicholas Conran, Sebastian Forbes and Owen Reese. I was selected to represent the music student cohort on the department's Courseboard, attending meetings alongside the faculty members. My skills as a writer developed enormously during my time at Surrey, largely due to the efforts of my dissertation supervisor who was a member of the English Speaking Society. My dissertation was a study of the works of composer John Rutter (who was then aged 50). My studies included visiting Rutter at his home in Oxford.
Beyond the University I was fortunate to work with the Guildford Symphony, giving pre-concert talks and also serving as assistant conductor in an amazing performance of Scriabin's Prometheus in which I worked with lighting designers in an inventive rendering of Scriabin's 'colour organ' (resulting in an amazing spectacle within Guildford Cathedral). I travelled to London most weeks during my course to observe rehearsals and performances of the English National Opera (conducted by Sian Edwards) and rehearsals and performances at Covent Garden. As a result of these experiences, I met Australian conductor Simone Young, and travelled to Austria and Germany during the Easter break to observe her conducting in opera houses.
How did you change as a person during your time as a Surrey student?
Being my first time living outside Australia, my time at Surrey led to significant changes to me personally.
"Our exchanges over dinners in our little campus house are ones I still remember and cherish today."
It helped me see the world - and my part in it - more completely and with greater depth of understanding.
I lived on campus with students who came from all over the world, including countries from Africa, Asia, Europe and North America.
You have an international reputation as an advocate for social justice and human rights – why is this role so important to you?
During my time at Surrey, and in the year leading up to it, I was required to give talks at Rotary Clubs in Australia and then in England. As part of these talks, I began to develop my own philosophy about what it means to be a musician. A few years earlier I had an experience playing in an orchestra in Bandung, Indonesia, when my parents lived there for a time. When the players first came together for rehearsal, there were many languages spoken and I felt quite isolated. But when the music was put on the music stands and we sat down with our instruments, suddenly we all understood the same 'language'. It was an important moment for me.
Similarly, I saw the power of music in changing hearts and minds when I was asked to conduct the choir at annual memorial services in Melbourne in the early 1990s, honouring those who had died as a result of AIDS/HIV. I witnessed how the music we offered helped family members to cross boundaries of homophobia and misunderstanding. The music also offered solace and hope. These experiences, and then my time at Surrey in an international campus community, help me to see that I wanted to use my skills to help make the world a better place, with music as the means to that end.
What do you enjoy most about your work and why?
I am fortunate to have found a profession that is also a vocation. Looking back on the past 30 years, I feel most proud of the music experiences I've shared that have helped to improve others' lives.
What are the challenges?
One of the biggest challenges I continue to face is gender inequality. As a woman in a predominantly male profession (conducting and composing), I still find that I need to 'prove' myself in spite of now having a doctorate and decades of experience. The injustices in the world, based primarily on fear and erroneous cultural norms, drive me to continue to do the work I do. The existence of those injustices, however, continue to make me feel frustrated and disappointed.
"I have been fortunate to participate in some amazing events and met some wonderful people."
What do you consider to be a career highlight/achievement?
I have conducted at some of the world's finest venues (Carnegie Hall, Kennedy Center, Sydney Opera House), but ultimately it's the outcomes of various projects about which I feel most proud.
A true highlight for me was seeing same-sex marriage finally legalised in the United States. I spent 13 years fighting that battle through turning up at rallies with choirs. Although the history books may not show the role music played, I know that our presence and our 'battle cry' helped to win a war against homophobia and injustice.
I am also incredibly proud of the choir I started in San Francisco, called Singers of the Street (SOS), inspired by the Choir of Hard Knocks in Australia. Our choir members, many of whom lived on the streets or were at risk of homelessness, taught me so much about their experiences and their humanity. Our goal was to help raise the singers' self-esteem, to create a 'family' community for them with the choir, while also bridging the divide between the housed and the unhoused, which was based mostly on fear.
Music was the conduit for these achievements. News about SOS spread, leading to the formation of other choirs in the US, such as the Dallas Street Choir in Texas, which is working with professional opera singers and celebrities to continue to break down barriers and improve conditions for people who are disadvantaged. A highlight for me is hearing audience members say they will no longer walk past someone on the street. They bring me stories of people they've met, meals they've bought for a stranger, hugs exchanged etc. We can change culture in positive ways by reaching out one person at a time.
What are your aspirations/goals for the future?
I am currently working on a music project based on women's true stories of domestic/family violence. I look forward to continuing this work as it is one of the international challenges affecting as many as one-in-three families. Raising awareness, educating children from a young age to stop the cycle of violence, and sharing real stories are ways in which cultural 'norms' are starting to shift in Australia. The healing I have witnessed through these music projects has far surpassed what I had ever imagined could be accomplished. I continue to be surprised by the power of music and look forward to continuing to use my skills as a composer, conductor and educator to help others.
What is your strongest or happiest memory of your time at Surrey?
Three activities are strongest in my memory: hanging out at the pubs on campus with students after classes, going for curries on the high street and singing in the choir for the Christmas service at Guildford Cathedral. I also had some wonderful experiences visiting historic places eg Brighton, the Fort at Old Sarem, and Stonehenge. I am sixth-generation Australian but my ancestry is British and Irish, so I enjoyed these opportunities to make connections with my genetic past.
What advice would you give to students who want to pursue a career in your field?
My words of advice: never give up, regardless of what others say to you. Follow your dreams and your passion. Spend time with people who lift you up rather than bring you down.
"Look for ways to connect with your wider community and be part of the 'solution'."
If you want to be a conductor, work your way up and learn your trade - volunteer! Say yes to as many projects as you can in order to widen your sphere, your knowledge and your experiences generally. Be a strong leader but don't be a dictator.
 I like to think of myself as a conduit between composer and audience. Conductor Gustavo Dudamel is a fine example of someone I admire as a conductor who is also a humanitarian. My philosophy is that if a group of musicians like one another, they will play better (regardless of their level of expertise). This is true whether the players are in primary school or professional adults.
If you want to be a composer, hone your skills as an arranger (there's often more work in arranging, especially for emerging composers). Study the copyright rules in your country and protect your work. Learn to be an entrepreneur so that others will know about you (I see too many composers sitting at home, alone, wondering why no one is playing their music). In this internet age, it is easy to share ourselves with the world. If you're not tech savvy, find someone who is!
Diversify your work options. Making a living as a musician is often a struggle. What instrumental or vocal or teaching skills do you have that can perhaps offer a steady income, at least while you're forging your composition or conducting career?
Finally, look for ways you can use your gifts to be of service to others. In my experience, this is far more valuable for your life and wellbeing and for those around you than all the money in the world. One person really can make a difference - you can be that one person.