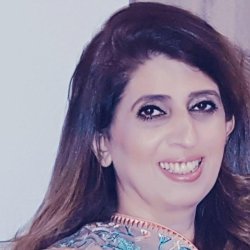 Dr Shabnum Sarfraz
"Having a degree from the University of Surrey helped me as I made my career moves as it was well recognized internationally. It helped me work in the field I have a passion for."
Course
Business Administration
Dr Shabnum Sarfraz is a health management professional who holds an MBA from the University of Surrey and a degree in medicine from Pakistan. She has over 20 years of inter-professional experience in strategic planning & management, resource mobilization, project design, monitoring and evaluation, hospital administration, marketing and human resource development in the health & social sector. This has provided her with an in depth insight into the unique needs of systems and policy frameworks and the technical expertise essential for successful development, implementation and monitoring of projects in these sectors.
Dr Shabnum Sarfraz has worked extensively at the policy level in Pakistan and with international development partners on projects aimed at institutional strengthening, manpower planning and effective health service delivery. She serves as technical advisor to the Department of Health, Punjab, Pakistan for issues pertaining to human resource for health. She facilitated health human resource profiling for WHO in Punjab and oversaw development of health strategic plans.
She is currently working for the Marie Stopes International as the Senior Technical Advisor of the Family Planning and Reproductive Health (FPRH) Project, being implemented by Marie Stopes Society (MSS) Pakistan.
What attracted you to choose the University of Surrey and to study the MBA here?
I had always wanted to pursue a management degree. However coming from a family of doctors, I was persuaded to do my first degree in Medicine. When I came to live in Guildford in 1993, I applied to the Biochemistry Department where I was offered a place. Every time I saw the beautiful block of the management school, I was reminded of my inner passion and I was finally able to convince my family that I should apply for the MBA which was a dream come true for me.
What were the best things about your course?
I was attending the Executive MBA Program and was the youngest and most inexperienced in the group. The discussions in the class were so enriching. Coming from different organizations, my fellow classmates shared their experiences in the context of the topic being taught which helped me assess the theoretical models in diverse contexts. There was a good variety of modules to select from.
How did you change as a person during your time as an MBA student?
It gave me the confidence, knowledge, attitude and skills to help me move my career towards an aspired destination.
What impact did the Surrey MBA have upon your career?
It changed everything! I moved from clinical practice to health administration. Having a degree from the University of Surrey helped me as I made my career moves as it was well recognized internationally. It helped me work in the field I have a passion for.
What are your thoughts on the importance of networking? Is a strong personal network important in business?
It is extremely important even in the social and development sector as helps you reach out to the expertise available and benefit from their insight. Being part of networks helps you know of the opportunities available as well as the advances being made in the field.
What one piece of advice would you give to people considering the Surrey MBA?
Don't miss it!
What is your strongest or happiest memory of your time at Surrey?
When I scored the highest in the Marketing and Corporate Strategy modules that were offered in the first semester. I just couldn't believe it!
Find out more about the Surrey MBA.