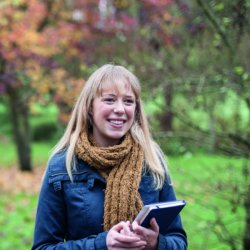 Elizabeth Andrews
"I chose a placement at the World Travel and Tourism Council (WTTC) in London ‭because of the important economic impact research it carries out, demonstrating ‭the industry's global value."
‭"Working as a Communications Coordinator, ‭a highlight of my year was inviting former ‭President Bill Clinton to deliver a keynote speech ‭at the WTTC Global Summit 2013. ‭
President Clinton wrote a personal letter of ‭congratulations to our team after the event; ‭I still have a copy of it and it gives me a great ‭sense of achievement.
My placement also included international travel ‭to places like Abu Dhabi, and I attended lots of ‭meetings and events where I listened to some ‭great speakers and networked with people in ‭the industry.
‭I received a lot of support when I was finding a ‭placement. My lecturers were very approachable, ‭giving advice on CVs and cover letters, while ‭my programme had a module dedicated to ‭professional business skills to prepare us for ‭working on placement.
My placement year has given me a great ‭network of contacts within the travel and ‭tourism industry. Personally, it gave me a sense of focus to work hard in my final year ‭and to keep using the skills I had acquired. My ‭confidence has grown, I have become more ‭articulate and I understand more about job roles ‭that suit me."
Discover our hospitality and tourism programmes, including our BSc International Tourism Management.