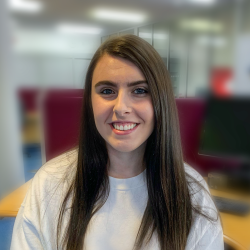 Emily Beckett
"The lady on the Surrey Clearing call who helped me was brilliant – I wouldn't be here without her."
I was meant to be studying in at a different university. I went there and enrolled, but soon realised I didn't like being away from home. I came home five days after I'd left, and my mum had emailed Surrey and asked if they had any spaces available on the Criminology course, which meant I could live at home and get the train in. Surrey got back quickly and said they had spaces left - I just needed to withdraw from my current university and apply to Surrey through Clearing. I rang Surrey's Clearing team to talk me through it and they were really helpful, making the process pretty easy. Luckily term hadn't started yet so my first day at Surrey was the first day of lectures, so I didn't really miss anything. 
I did actually apply to Surrey initially – it was one of my top five choices. I went to an open day and liked the campus. The course talk was helpful, the lecturers were insightful and very passionate about their subjects. I liked the focus of crime in the criminology course - a lot of other universities offer criminology but it's usually just sociology with one module of crime. I was also excited by the opportunity to do a Placement Year (gaining industry experience) – Surrey gave me a massive list of all the places students had gone during their Placement Year.  
So, I did know about Surrey and I was very impressed – it was my favourite course, but for me it was just the "local university", and I thought I wanted to go further afield (turns out, I really didn't). My mum was always encouraging me to look at Surrey just in case and said: "you can stay at home if you want to do that." I think she knew that I didn't want to leave home, but I thought I'd try it.  
My university experience at Surrey has been amazing. I love my course and that it's different. What I find useful is that our modules are a practise for our dissertations. I find it helpful that I'm gaining those skills now, so I'll find dissertations less daunting. It's also much more crime-based which is what I wanted to study – I really like the forensics module. There's a lot of work, but I enjoy it. They even set up a practical crime scene investigation (CSI) day, which was great fun! 
As a commuting student, I worried I might feel like the odd one out, not living on campus. But I've made lots of friends on my course and there are other people who live at home too, so it's quite nice that I'm not the only one.
I chat to people in seminars and lectures, so I don't think it's held me back.  I also have my friends at home who I see all the time, so it's a nice balance. 
In the future, I want to either do a masters or, when I finish my degree, I want to join Surrey Police. The course is very helpful, covering loads of stuff I never even thought about, and it's preparing me for joining the police. We even had Surrey Police come in to talk about their volunteer scheme – it's handy that I'm going to a university that's connected with the police force I want to join. 
To anyone going through a similar situation, my advice is don't panic – it all works out in the end I think. At the time it feels awful; it's horrible and really, really stressful, but there are people there to help you. The lady on the Surrey Clearing call who helped me was brilliant – I wouldn't be here without her. Use those people who can and are willing to help to make it easier. I think you end up where you're meant to be. I really enjoy it here - I've never had a bad feeling and I love coming in every day.