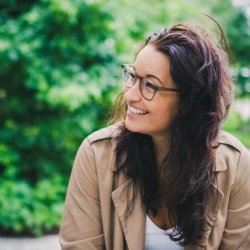 Genevieve Arkle
"I have no reservations about my decision to study at Surrey – it is by far the best place I could have chosen." 
Research project
Uncovering Mahler: Musical allusion and the legacy of Richard Wagner's Parsifal in Gustav Mahler's Ninth and Tenth Symphonies
"Surrey had always stood out to me for its contemporary, open-minded and vibrant approach to education and learning. There appeared to be a real sense of community within the Department of Music and Media and I immediately felt very at home. It is by far the best space for me to peruse my research, both in terms of the academic opportunities and support, and for my own personal development as a young researcher.
I have enjoyed music ever since I was a child, but my interest in classical music (and the music of my research project more specifically) developed much later on. I was invited to sing in the chorus for a performance of Mahler's Second Symphony when I was 18 or so – I had never heard of Mahler and wasn't a big fan of classical symphonies. When we did our rehearsal with the orchestra and I sang my part in the chorus, the penny dropped for me and I thought, 'Oh, I get it now. This is why people love classical music!' I wanted to find out why I was so moved by it and how music can be so powerful to a listener. Ever since then I've wanted to understand what makes Mahler's music so captivating and unique, and this Music PhD is really just a by-product of this passion.
It's always hard choosing a university, especially for something as important and personal as your PhD, but I have no reservations about my decision to study at Surrey – it is by far the best place I could have chosen. 
"Staff have been endlessly supportive, and I have been offered more opportunities than I ever could have anticipated."
I don't think I'd be anywhere close to where I am now if it wasn't for my supervisor guiding me along the way (and answering my seemingly endless questions!) In one of our very first meetings, he said to me: 'Doing a PhD is learning more and more about less and less. At some point you will hit a wall and think what on earth do I do with all this information now?'' When I inevitably reached that point, we worked together to break down that wall and turn the project into something with greater direction and impact, and hopefully something that will be valuable for future research in this field.
Outside of the PhD itself, he has offered me teaching opportunities, passed my name along to write book reviews, included me in the establishing of a research centre, and the list goes on. My supervisor has been an integral part of both sides of this journey, helping me turn what was originally just a small research idea into something far more substantial, and marking the beginning of my career as an academic. I am endlessly thankful for that.
I have been really lucky to be able to do some teaching during my time here at Surrey. This was by far the most fun and most enriching experience for me so far, as I was able to share what I have been working on with some undergraduates and see their interest and engagement with my research. Doing a PhD can be quite isolating sometimes and you often wonder what impact it will have on the field. But having the undergrads ask questions and want to write their projects on something they have learned from me and my own research made the whole thing feel utterly worthwhile. It's an opportunity to share my passion for music and hopefully ignite that flame in someone else – I couldn't ask for more than that!
I think getting my work published has been one of the most special (and slightly surreal) moments for me.
"Seeing my name in print for the first time made me feel so proud and helped me realise how far I've come with my research since its very early stages." 
It's such a massive undertaking that little nods along the way such as getting accepted to speak at a conference or getting your work published, helps to keep you on track and feel proud of what you're achieving.
I would like to stay in academia and apply for a position as a lecturer – I feel that my experiences so far at Surrey have shown me that this would be a really fantastic career option for me, and I think Surrey have prepared me incredibly well for making my way in this field. I would also like to consider doing a post doctorate in the future (but probably not until after I've recovered from writing the thesis!)"
Discover more about our music and sound recording courses, including our Music PhD.