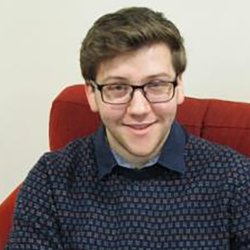 George Guven
"Surrey can open doors for you because it is a great course at a fantastic university."
"I first became interested in Politics during the 2010 election. I just couldn't get enough of it so I wanted to find a great Politics degree. I liked the look of the modules offered at the University of Surrey and so the combination of the course and the professional training year was a really attractive package that was too valuable not to apply for.
I like the variety of areas you can discover on this Politics degree as it has opened me up to new things. I enjoy the political philosophy lectures but also the more practical side in public policy.
All the lecturers are very friendly and accessible. I feel like I can talk to any of the academics. The department is a support network where feedback from students is really valued. I am an academic rep where I represent the voice of students in my year.
It has been a useful experience and it maintains a healthy relationship between the department and its students.
"The University of Surrey has such a great atmosphere."
I'm the secretary for Politics Society, helping to organise events, such as our discussion event 'Politics and a Pint'. It is a nice environment where to get to know students from all years.
The university promotes a healthy working attitude that encourages you to study hard but also reminds you to have fun!
The professional training year is such a huge opportunity and I think without it, you would be at a disadvantage. You feel really supported in finding a placement and there is a lot to choose from.
Surrey can open doors for you because it is a great course at a fantastic university. The close links to London can be vital for a Politics student. I recently assisted at a parliament outreach week in London where local sixth formers came up with ideas on digital democracy which was a really beneficial experience.
There is a lot to do at the University of Surrey, not just academically but also socially. I feel through coming here, it has given me a head start to a promising career in Politics."
Discover more about our politics programmes, including our BSc Politics.