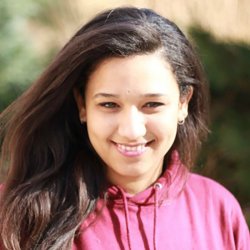 Harriet Hicks
"I'm really proud to be graduating from Surrey."
"I chose to come to Surrey because it had a strong life sciences faculty, brilliant research facilities and significant job prospects for graduates. I attended an Applicant Day after already applying. I was really impressed by the research facilities, particularly the Sleep Clinic, and fell in love with the location. The league tables weren't as important to me, although the university was in the top 20 at the time, as I wanted to choose the university which I felt would be best for me and my future. Also, it was nice that Surrey was local - I live in London and there are great transport links home.
I originally chose to study Biomedical Science because of Surrey's accreditation with the Institute of Biomedical Science. I loved the idea of fully practical modules, and the breadth of the modules we would study. However, I swapped to Biochemistry when I realised the modules suited me better. 
"Since starting at Surrey I've improved significantly in my presentation skills, can now think more critically, and I have a better idea of what I want to do with my future."
I love the balance of coursework and written examinations. I am very coursework minded, and so this set up really gives me a confidence boost. I also like the practical elements of some modules.
Wet lab experience gives you an advantage over other applicants when applying for jobs. 
The staff on my programme are great! Very nice, and easy to talk to, particularly if you need help understanding a certain concept. They encourage asking questions and want to help us help ourselves.
Since starting at Surrey I've definitely grown up (I've even started carrying pens in my shirt pocket!) and feel more prepared for life."
Discover more about our biosciences and medicine programmes, including our BSc (Hons) Biochemistry.