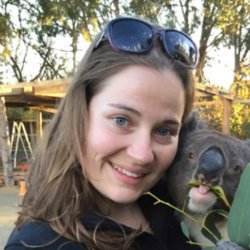 Ilona Vogel
"We had a very international course. My nature is to make friends with anyone from this world, so I was lucky enough to make friends with people from a vast array of backgrounds and cultures."
What attracted you to choose the University of Surrey and to study your particular course here?
My Bachelor's degree was in Finance, but I didn't enjoy the course much, nor did I want to work in the finance industry. I therefore went travelling straight after university, knowing that one day I would return to start my Masters degree.
Eighteen months later it was time to apply and I knew I wanted to get a degree in tourism. I spent a long time trying to find the right university until one day in a hostel in Australia I met a person (we are great friends today) who told me of his university in England – the University of Surrey - and its very good reputation for tourism.
 I spent even more time researching Surrey and loved it. It is well known, has great rankings and then I knew this would be my choice. I selected Tourism Management over the other Tourism degrees as I wanted to keep it more general and not too specified – I am still happy with my decision.
What is your strongest memory of your time at Surrey – what do you picture first when you think of being here?
Surrey Sports Park. It's the best sports facility I have ever come across. What a fantastic opportunity for students to train in any sport one can think of in a friendly, professional environment. Whenever I had a spare second I could be found at the Sports Park. I was also lucky enough to play for the ladies tennis team and hence spent a lot of time on the courts. Other than sports, we had nights out at Bench Bar, met new friends or simply chilled out at Starbucks and studied. In my eyes, it made my year that much better.
What were the best things about the course you studied?
We had a very international course. My nature is to make friends with anyone from this world, so I was lucky enough to make friends with people from a vast array of backgrounds and cultures. That was the most valuable experience - I learned through cultures.  
How did you change as a person during your time as a Surrey student, and how has your time here influenced your life and career?
Throughout the year I learned from other people. Yes, we have of course learned from classes, but more importantly from each other. And I think this is how I changed. I pay even more attention to others and value their opinions.
Another reason why I grew personally is that I had a very tough year financially. On top of studying full-time I had two jobs to fund my studies and my life. On average I probably slept about 4 hours a day, trying to do well with my school work, yet still work to earn money. Looking back, I have grown from this experience as it made me stronger, although I wouldn't want others to do what I did!
Where has your career taken you since leaving Surrey? What do you find most enjoyable about your line of work and why?
I am lucky enough to now have the best job in the world! After university I ended up with Tourism Australia. I had wanted to work with the company for years, and one evening I saw an open position as Trade Services Executive in the London office.
Within this role I looked after Tourism Australia's online training tool, the Aussie Specialist Program, as well as assisting the German speaking trade with any enquiries relating to the destination Australia. I enjoyed the role a lot, although after a while I hoped for a more challenging opportunity to come along.  Today, I am the Trainer for Continental Europe based in the Frankfurt office of Tourism Australia, training travel agents all across Continental Europe. It's literally my dream job.
I get to engage with people, am partly based in the office but also get to travel a lot. It is very exciting to create training in alignment with Tourism Australia's strategy. The destination competition is tough – my job is to train travel agents so they can comfortably sell Australia to their customers.
What are your top tips for students aspiring to work in your profession?
As I work in destination marketing and very specifically in the training sector, my top tip is to be passionate about your destination. Especially on roadshows you spend day and night with your job – if you are passionate about it, it's not a job, it's fun!