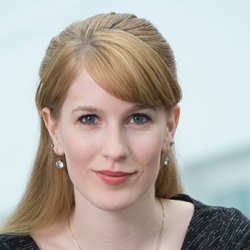 Jacklynn Stott
Jacklynn, previously Residential Support Case Manager for an NGO, talks about what she enjoyed most while studying for her MBA at Surrey.
Course
Business Administration
"I was really looking for a university that would best suit my needs, that was on the cutting edge of how business is being conducted globally and that would teach in a very practical way. I come from the non-profit sector and was looking for a university that would foster my love of business and social causes to help further develop my professional ambitions. Individual mentors, business breakfasts with real business leaders and consulting business projects with large corporations are just a few examples of how the course brings the material to life. I love the hands-on approach.
Tuition at the University of Surrey was very reasonable, and being offered a generous scholarship was a pleasant surprise and I feel that I get more than what I pay for here.
I chose to study in the UK instead of Canada because I wanted a global MBA experience. Being close to London has been great for allowing us opportunities, such as doing a business project for Barclays bank at their headquarters in Canary Wharf; this brought so much energy to the course.
I also really love how diverse our cohort is. In the cohorts we have about 16 nationalities and from very different professional backgrounds. This diversity adds another level of critical thinking during discussions and group work, resulting in more meaningful analysis.  
I think the study environment at Surrey is dynamic. We study in different ways and at different places and times. Independent study and group work are both built in during class time, coordinated by the students as needed outside of classes.
Sometimes when we want to switch things up to get the ideas flowing in a fresh space, we'll take our group meetings to the on-campus pub.
Students are challenged to embrace the change rather than resist; by doing so, we are practicing skills that will be directly transferrable to most business environments. The same is true of learning to work with different personalities in the classroom.
On a personal level learning to be flexible, and to listen and communicate well are integral lessons of this MBA experience.
I've learned to be more open to how I'll execute my vision for my career. Prior to coming to Surrey, I had thought that I wanted to start and run my own non-profit one day; now I have expanded the list to options I'd previously overlooked or didn't know about.
Hearing from professionals in a variety of sectors and positions has given me more information and challenged my thinking.
At Surrey I have gained the opportunity to create connections and practice everyday business skills often. I love it, with people who will impact your development in some capacity.
The range of people that we meet from such a wide array of avenues from the students, the faculty, the business partners, the guest speakers, and extra-curricular leaders. There are constantly opportunities to meet and expand your network in a variety of areas."
Find out more about the Surrey MBA.