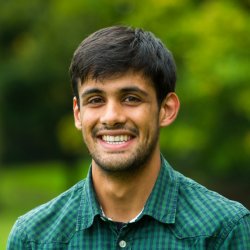 Jacob Pimenta-Richardson
"The support I've received from my department, my University supervisors and my sponsors at Thames Water Utilities Limited has been excellent. They've helped guide my research so that it's both novel and useful."
Research project
Degradation of water pipes
Choosing Surrey
When researching universities with good mechanical engineering courses, Surrey was one of the top choices.
And since I grew up in West Sussex, studying in Guildford was close enough to visit home fairly regularly, while still getting the "away from home" experience of university.
I remember liking the design and feel of the campus when I attended an open day. When we had a look around the engineering facilities, specifically the formula student lab, I could imagine myself studying here. As soon as I was given an offer, I immediately accepted!
My research
I'm studying for an Engineering Doctorate (EngD) in Micro and Nano-Materials and Technologies. EngDs are a research collaboration between the University, the Engineering and Physical Sciences Research Council, and an industrial sponsor.
My sponsor is Thames Water Utilities Limited (TWUL) and, working alongside them, I'm investigating the degradation of water and sewage pipes that have been in service for hundreds of years.
The combination of industrial experience, hands-on work and scientific endeavour is great. The support I've received from my department, my University supervisors and my sponsors at TWUL has been excellent. They've helped guide my research so that it's both novel and useful to TWUL, and they've helped me see the bigger picture of the impact of the project.
Professional placement
My undergraduate professional placement was with Ricardo Plc, an engineering consultancy based in West Sussex.
I worked for a year in the base engine engineering department. Collaborating with the design team, we created virtual models of engine components to test performance prior to pilot production.
Life at Surrey
As an undergraduate, I played lacrosse for the University and I was an active member of the Christian Union.
For my first year, I lived in student accommodation. I loved my sunny room in Battersea Court.
I like the fact Surrey's a campus university with everything in one place, and being able to get to my lectures quickly. I love to take walks around the lake between lectures, or to sit on the field with friends.
The future
I'd like to continue at Thames Water as a research engineer, though I'd also like to spend some time in the missionary field.
There's a pressing need for missionaries with scientific backgrounds, who can help rural communities with engineering projects or teach in schools.
The provision of clean drinking water and treatment of waste water is a fundamental part of helping communities survive and thrive. I'd like to help in that area.
Find out more about EngD courses in our Department of Mechanical Engineering Sciences.