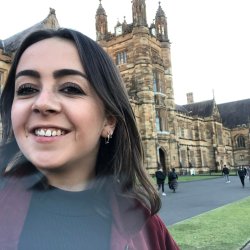 Juliette Howard
"I don't think 18-year-old me would be able to recognise the person that I have become today."
Course
Sociology BSc (Hons)
Study abroad location
University of Sydney, Australia
Placement company
Action Emploi Réfugiés
I decided to study at Surrey upon visiting the University at an open day. I attended one for all the universities I was applying for, but I felt most at home and comfortable in Surrey. The moment I could imagine myself here was the key moment when I knew this university was right for me.
Surrey was one of a few to offer such flexibility in its degrees and I did not want to be confined to one single area of study – I really liked their sociology with psychology major-minor programme and couldn't find another in the UK. What reinforced my desire to study at Surrey was its campus-based setting, the idea that I would instantly become part of a caring and supportive community with students from all over the world. The opportunity for a Professional Training placement and to study abroad was also a deal maker, as I really wanted to gain practical experience in my degree and expand my network.
For my Professional Training year I combined a 6-month placement working as part of a non-governmental organisation with 6 months studying abroad at the University of Sydney, one of Australia's leading institutions.
My work involved promoting the professional integration of refugees by organising and leading actions towards refugees including weekly meetings and workshops around employment. I supported refugees in their professional and integration journey and worked with them to help them articulate their professional project and encourage them in their job search. I further participated in the animation of social media platforms of the charity, as well as connecting with businesses to explain to them the value of employing refugees. At times, it was brutally confronting to hear the stories of the people coming to seek help. It made me grow immensely in maturity, become passionate about migration and helped me define my professional project, so I would recommend it to others.
The Study Abroad exchange allowed me to gain an international perspective on my field of study, a new perspective on my own society and way of life, and the opportunity for comparisons.
"I became curious to learn and grow from others and found myself increasingly appreciative of diversity and human difference." 
Studying abroad was an opportunity to let my mind to grow and to have an invaluable experience to thrive personally, academically and culturally. It completely changed my life and made me mature significantly, I would recommend it to anyone studying at Surrey, particularly to make the most of their degree.
The highlight of my time at Surrey so far would definitely be the whole of my placement year, which played a crucial role in helping me consolidate my future academic and professional direction, but also forged who I am today. I value it so much because it has made me more open to experiences, to ideas, ways of being and thinking.
I don't think 18-year-old me would be able to recognise and believe the person that I have become today. I have become a lot more confident, passionate and focused in what I want to achieve in my life, and I am certain about the area in which I want to pursue my career.
 
Discover more about our sociology courses, including our BSc Sociology.