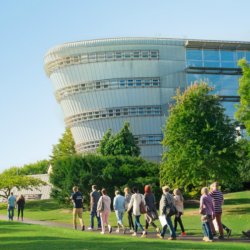 Kayley Skipworth
"I wouldn't be becoming the midwife I am if I wasn't supported correctly or guided on how to be a good midwife."
Course
Midwifery (Registered Midwife)
"I chose to come to Surrey down to the feel the University had when I attended the Open Day. Everyone was so lovely and you could really see the passion in everyone. The current students were always smiling and talked so possitively about the course and placement. I did look at the league tables however I also didn't want to be far from home so therefore I was only choosing universities within two to three hours from home.
I always thought how beautiful Surrey was and how homely it was. I loved that it was all on one campus, and especially that midwifery was in one building. The simulation suite was incredible and I didn't expect it to be so realistic and be so big.
The best part of my course is definitely the placement. You get to practise what you learn and feel like you're starting to care for women and make a difference.
Being in the same placement for three years means you get to feel part of the team and start to feel like a midwife. 
The academic staff on my course are incredible, they are always there to answer questions and have such a high level of knowledge that everything you learn is up-to-date with the latest research. The facilities are amazing, we are very lucky that a lot of our equipment can be transferred so therefore we can use them in other rooms rather than the simulation suite. We also cannot learn everything on models we need to do it in placement to actually get the proper handle on everything.
I lived in Manor Park accommodation in my first year. I loved Manor Park, and I felt like I had some life outside of the business of shifts and University. The housemates I had were amazing and I still live with three of them now.
I have played rugby for the University of Surrey Women's Rugby team whenever I am not on placement. It does make it harder to be a part of a sport club but its nice to have some time away. I am also the Vice-President of the Midwifery Society so we organise events for the student midwives at Surrey. Both have contributed to my surrey experience as I have felt like part of the community of the University as well as the midwifery community. 
The best thing about life in Surrey is everything on campus is so close and in walking distance. It has every shop you could want and having the club Rubix on site makes it feel safe and saves loads of money on taxis.
The best part of my course so far has been the home birth I attended.
I had been on call for weeks with no luck, and on the last day of second year I was called out. I was able to deliver the baby of a lady who I had seen in community for the last month. She was so grateful she sent me the most beautiful email and photo which made me cry. Every time I am having a rough day I look at the photo and email and it makes me realise why I am doing it. 
I have grown in confidence, leadership skills and communication skills. Compared to the first year I am becoming the midwife I want to be and have been support on the way with everything I do."
Discover our health sciences courses, including our BSc Midwifery: Registered Midwife course.