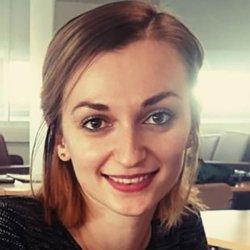 Kozeta Ismaili
"Living on campus is convenient as you can get to lectures within ten minutes, you have the library on your doorstep and you feel part of a community."
"I completed my BSc Sociology and Criminology degree at Surrey and it was an amazing four years. I wanted to do a masters so I applied to do the MSc here straight after graduating in July 2015.
Prior to joining Surrey to complete my undergraduate degree, I went to an Open Day. Coming from London where it is so noisy and busy all the time I loved the peace that Guildford had to offer and the campus is so big it's almost like its own little village right in the centre of Guildford.
Coming to an Open Day is a must; seeing the campus for yourself and getting a feel for it is helpful to making your decision. I already felt at home after completing my BSc here so it was a very easy decision to complete my masters here as opposed to any other university.
I loved that student accommodation was guaranteed to both first year undergraduate and masters students – living on campus is convenient as you can get to lectures within ten minutes, you have the Library on your doorstep and you feel part of a community.
The staff in the department are brilliant; they are all academics who continuously conduct research into their own chosen fields and there is a mix of backgrounds within the department. This means that there is always someone you can go to speak to with reference to your chosen field of study.
The staff are always willing to help and are interested in your opinions on matters. Debates within lectures are great, especially as the classes are usually small, you can hear other people's ideas and challenge their thoughts with your own input.
I completed a Professional Training placement in the year between second and final year. I spent eight months on an offending behaviour programme at a male prison in Surrey. 
I loved the experience; despite how difficult it was at times and how emotionally draining some of the sessions I sat in were, overall it was an amazing experience. It was definitely unforgettable and heightened my desire to join the prison service.
I would recommend a Professional Training placement to everyone – you get a chance to have a year in the industry you want to be in to see if it is for you or not. It allowed me to make some valuable contacts within the prison service who have helped me on my undergraduate dissertation.
Surrey to me feels like home now. I have spent five years in Guildford and will be sad to leave; I have made some friends for life, achieved an amazing degree and have grown as a person.
My greatest achievement of 2015 was graduating with a first class honours degree. As I was working part time throughout my final year of my degree this was not easy, I had to juggle between work, lectures, assignments and a dissertation. I was extremely proud of myself, I put so much hard work into my degree and my final year so achieving a First made it all worth it.
I think university changes us all in different ways. I definitely have changed since I started at Surrey as a teenager! I've become more responsible for myself, learnt what I want out of my life and future career and have matured into a young, independent and determined woman."
Discover more about our criminology programmes, including our BSc Criminology.