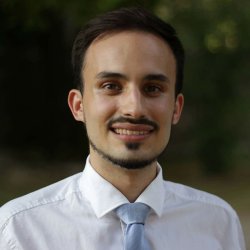 Kristian Roncero
"Studying at Surrey has been the best experience of my life. I have a very supportive and friendly department, who have treated me as an equal from the very beginning."
"I love languages and I am especially concerned about those languages or varieties that are threatened. I wanted to get more training in linguistics and fieldwork experience, in order to help with language documentation projects.
After looking at many institutions all over the world, I realised that the Surrey Morphology Group was the best match for my PhD. They have a very innovative linguistics department that does fieldwork (which is quite uncommon), but also has some really well-trained people in Slavistics (which is quite a unique combination). Moreover, the Surrey Morphology Group is a world renowned department in the area of linguistics (especially in the subfields of typology and morphology), with very big names in it.
 
I am having a life-transforming experience with my PhD. I am meeting very interesting people all the time (at different events on campus, when people come to visit my department, and at conferences) as well as constantly being exposed to new ideas and challenges, which I love. But definitely, the best part of my PhD is fieldwork. Fieldwork is anything but easy, yet I have had the chance to meet wonderful people. I like seeing the faces of the speakers I work with: how they are amazed at the fact that someone is interested in the way they speak and who wants to listen to their life stories. At the same time, fieldwork is full of surprises and adventures; such as finding villages for working, or figuring out how to get there (and what are you going to do if the weather is bad and you can only get there on foot or by bike).
Studying at Surrey has been the best experience of my life. I have a very supportive and friendly department, who have treated me as an equal from the very beginning.
My colleagues are also very keen to help me whenever my supervisors are not around or when I just need a second opinion. The working atmosphere is very pleasant and motivating and is constantly celebrating language and cultural diversity.
My supervisor and my co-supervisor have been supportive from the very beginning. They helped me find the funding. They corrected and gave lots of advice for my grant proposal. They have written cover letters whenever I needed to raise funds from external bodies. And in general, they have an enviable knowledge of the field, while they are also good at helping me to stay focused on my work.
The Additional Learning Support service have been very supportive. In addition to this, I have enjoyed using Surrey Summit at Surrey Sports Park, the Researcher Development Programme courses, the Quiet Centre, the teaching at higher education programme, and the many PGR and international student societies on campus.
I have highly enjoyed the three field trips, with all the work they involve (from raising funds from trusts and charities to applying for all the permits or finding the right native speakers and villages) and all the people I have met on the way.
My research is having a genuine impact. I am creating a YouTube channel (called 'West Polesian fieldwork') with some of the best stories gathered during my field trips (with English subtitles), as a way of preserving the data, honouring the speakers, and make it available to everyone (starting from their youngest relatives). The channel and my research, in general, is having a very good coverage in the Belarusian press, which is helping to get more subscribers, and also more emails and invitations of people willing to contribute to the project (researchers, speakers, people with relatives in the villages etc.).
My greatest achievement so far has been getting an abstract accepted for the Association of Linguistic Typology Biennial Conference (2017).
I have thoroughly enjoyed the opportunity to live in a multicultural campus and country. I like the level of diversity and respect on Surrey's campus. Being next to Gatwick and Heathrow airports, I have done quite a lot of overseas travelling for fieldwork and conferences, but also for leisure.
In the future I would like to stay in academia. I hope to keep doing linguistic fieldwork and creating resources for endangered languages/dialects."
Discover our courses in language, communication and translation studies, including our PhD in Linguistics.