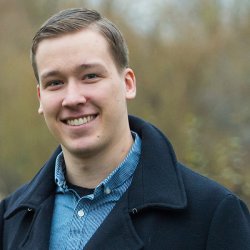 Lasse Järvelä
I'm an Erasmus exchange student here at Surrey. I think that travelling and living abroad are things that everybody should do during their studies.
Course
Space Engineering
Study abroad location
England
"The University of Surrey is an Erasmus partner with my home university and I've always been interested in space, satellites and engineering. Space engineering is not available in Oulu so this was a good chance to study something I've always wanted to learn about. Good rankings also encouraged me to come to Surrey.
Space engineering is somehow a distant and mysterious subject that most of us don't think about during our everyday life. Still, satellites play a huge role in our modern world. I've always been greatly inspired by the space race that happened in the 1960s and how it made things considered impossible, a reality.
Back in Finland my program is about electronics engineering and I think that the combination of electronics and space is a good match if I ever want to work in space or defence industry.
I enjoy learning the complexity behind satellites and space engineering. Maybe a bit surprisingly, I also enjoy doing assignments because I feel that I always learn so much during the work (sometimes you end up pulling your hair out, but when you solve a difficult problem, it's so satisfying).
I currently live in Cathedral Court (band C). The price is very reasonable compared to other options and when taking into account that we live so near to London.
Surrey Sports Park is nice (they have a proper Finnish sauna there!) but the best thing about Guildford has definitely been the location, near London and Gatwick. I enjoy travelling and it's easy to go anywhere from here.
I have worked all summers during my time at university (that means four consecutive summers now, the past two in Nokia – a big Finnish telecommunication company). I would highly recommend getting work experience while at university. It gives you a good perspective into future working life and may help you to steer your studies towards things that you are truly interested in.
I'm an Erasmus exchange student here at Surrey. I think that travelling and living abroad are things that everybody should do during their studies. You develop a better understanding about the world when you meet new people and see that many things are done differently than you do them at home. International experience is also appreciated when applying for jobs.
Staff at the University of Surrey are super helpful and they always answered my questions when I was applying here.
One of the best experiences I have had is when I went to London for the first time with my other exchange friends at the beginning of the semester. It was so nice to see the Big Ben, Piccadilly Circus and all other famous landmarks of London. Trips to Scotland and Ireland have also been really wonderful.
I think that I've become more comfortable speaking English since attending Surrey. When you go to a new environment and adapt to living there, it has a positive impact on you and it makes you more resilient. 
In January, I'm going back to Finland to finish my master's degree. Then it's time to find a good job!"