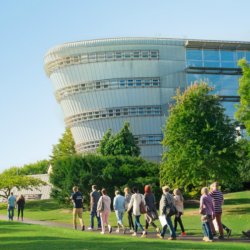 Laura Bridle
Laura Bridle is a Research Midwife
Course
Midwifery (Registered Midwife)
What attracted you to choose the University of Surrey and to study your course here?
I was attracted to the University due to the high calibre of teaching. The professors were passionate about midwifery but also about their pupils being the best they could be.
 
What is your strongest memory of your time at Surrey - what do you picture first when you think of being here?
The campus is in a beautiful setting and I love that Guildford had such easy access to london and shopping. However, my strongest memory is that the location of graduation being from the film the omen. Very funny driving up to it.
What were the best things about your course?
The professors, the variety of subjects, and the opportunity to do an elective abroad.
 
What do you do now and what do you find most enjoyable about your line of work?
I'm a Research Midwife. I find being a part of the future of our profession is very exciting. Learning from and working amongst some inspirational Professors such as Lucy Chappell, Andy Shennan, Cath Williamson and Jane Sandall is very rewarding and inspirational.
 
How did you decide what career to go into? How did your time at Surrey help you to decide?
I knew I wanted to be a midwife whilst working as a nurse in Canada. I was inspired by an independent midwife there and the way she was able to offer continuity and ongoing support to women made me move back to the UK and train. Surrey only enhanced my love for midwifery as I was able to work with a caseload team in my final year. This was my dream and I was fortunate enough to work as a caseload midwife for five years before deciding to go into research.
 
If you completed a Professional Training year/placement, can you tell us how this impacted upon your ability to get a graduate job?
All students in healthcare complete placements, but I was able to go to Nepal in my final term. This was an amazing experience and one I will cherish always. I made life long friends and it opened my eyes to working abroad and learning traditional birth methods that I could bring back to the UK. I then went on to work with Doctors Without Borders (MSF) in South Sudan. Midwifery has so many opportunities. Just keep applying and go for it.
 
What aspects of being connected with the alumni network are most important or of most interest to you and why?
I enjoy hearing about how my colleagues are doing, what opportunities are out there and I'm proud to be part of Surrey.
 
What are your top tips for students aspiring to work in your profession?
Get experience. Work as an HCA or maternity support worker. This will really help you open your eyes to the reality of midwifery and also gain skills in communication. You meet women and their families in such an important time in their lives and often have to create trusting relationships in such a short period. Also, make sure you read (I recommend authors such as Ina May Gaskin, Sheila kitzinger and Michel Odent). Read about being WITH woman and how to see the beauty in birth.
Learn more about our degrees in the field of Health Sciences.