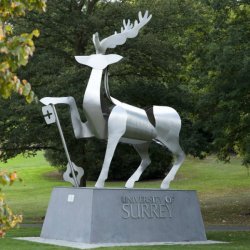 Lee Reynolds
Lee graduated from Surrey with a BMus in 2007 and has made a significant impact as a conductor for leading orchestras and institutions, including the London Symphony Orchestra (LSO), the Royal Opera House and Glyndebourne Youth Opera. He was named as one of the Vice-Chancellor's Young Achievers of the Year for 2016.
How did you feel to be awarded Young Achiever of the Year?
It was really humbling and I was very pleased. It's so nice to return to campus and stay in touch with the institution that contributed so much to my education.
What attracted you to choose to study music at Surrey?
When I visited the campus it felt so friendly and welcoming. I had to make a choice between a music college focused on performance or a university offering the more academic side. Fortunately, Surrey ticked both these boxes so it was a good fit for me.
I grew up playing the cello but I was seriously considering law for my degree but I realised in my A Level year that if I didn't give music a shot I would regret it forever.
What were the best things about your course?
It was the balance of performance and academia. The input from staff who were actually out there performing and conducting meant I could absorb that way of working and the standards expected at the professional level. Before University I had taken fledgling steps in conducting in my local area and I was keen to be able to build on that – the staff were brilliant in encouraging and supporting me to do this so I was learning by doing.
The experience of working in a recording studio at Surrey has helped me step into that world when I record with orchestras and I feel more at home.
The Director of Conducting at Surrey, Russell Keable, recalibrated my mental construct of what being a conductor is and I go back to that all the time in my work today. It's about having the long view and thinking about the bigger picture.
Did you go on a professional training year?
The department has lots of contacts if you want to spend a year in industry, but I knew I didn't want to work in music education, therapy or admin and placements for conductors don't exist, so I decided to go straight through to my final year.
What do you enjoy most about your work and why?
I am hugely lucky in that I get to work on a variety of projects with some amazing elite ensembles, such as the LSO. I can be on a concert platform, recording in a studio or working with secondary schoolchildren. The latter is very rewarding. It's a choral outreach programme, going into some of the most challenging secondary schools in Hackney and Islington to engage the young people in singing workshops and to further the opportunities for those who develop an interest in performing.
I feel secondary music education has been left behind so I work with a small group, exposing the students to classical music and singing for the first time. It's bred into their DNA that music has to be the most recent thing and so we challenge that perception and try to make classical music relevant to them. I get huge enjoyment from seeing their attitudes change.
What are the challenges?
Getting that first opportunity when there are lots of extremely good other people out there. As a young conductor it can be daunting marshalling a room of experienced musicians and persuading them to do something in a particular way. I feel like I am building my toolkit as I go along. There is so much to learn to being a conductor that it's not until you have reached 40 that people start to take you seriously.
What are your aspirations for the future?
I would like to continue to have a good mixture of projects and I would love to expand the work I do outside the UK. There are some exciting prospects in Poland, the Netherlands and Spain. Fortunately the language of conducting is universal! On one of Russell Keable's modules we had to take a rehearsal without any verbal instruction and it has come in very useful.
What is your strongest memory of your time at Surrey?
What immediately springs to mind are the times we were in the cathedral with the orchestra and choir. Another memory is of Professor Sebastian Forbes – he is such an intellectual and was a hefty presence in the department and the force of his character was everywhere. 
I also remember the conducting classes with Russell. If I was designing a university course, it would all spiral back to Russell.
What advice would you give to students hoping to work in your field?
It is really hard and unfair! You're in control of 15-20% of what happens in your career and the rest is down to luck. You have to work phenomenally hard and really want to do it. However, the highs are really high and make it so worth doing and you're doing something that inspires you which not everyone in the world can do.