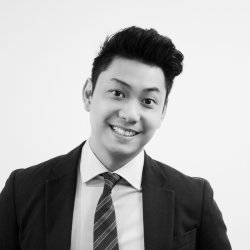 Lynal Low
"I thoroughly enjoyed the international exposure the course offered. I attended an exchange programme in Melbourne, a summer school in Seoul, a work placement in London and a field trip to Nairobi."
Lynal graduated with a BSc in Tourism Management in 2013 and is Regional Manager Asia for Professional Incentives Ltd, an event management company, and is heavily involved in sales development, venue sourcing and logistics planning.
Lynal is a steadfast supporter of the University, regularly volunteering as an ambassador at student recruitment events and receptions in Singapore. He was jointly awarded the Vice-Chancellor's International Volunteer of the Year for 2016 with fellow Singapore alumnus Jaycee Feng.
What does it mean to you to be chosen as one of Surrey's Volunteer of the Year Award winners?
I am proud to be affiliated with the University of Surrey and have always looked to contribute in any way I can. To do so as an International Ambassador has been both a pleasure and a privilege. It is a great honour to be recognised alongside Jaycee, my fellow Singapore ambassador, and we hope that this can encourage more alumni (not just Singaporeans) to step forward and help contribute to Surrey.
What attracted you to choose the University of Surrey and to study here?
Many factors contributed to my decision, but I was won over by the scenic town of Guildford, and its proximity to London. I wanted to work in London over the holidays and Guildford was the perfect base to do it from.
It definitely did help that the University is ranked first in the UK for Tourism and Hospitality. Surrey is renowned for its academic excellence and I found the academic structure, which included a placement year, perfectly in line with what I was looking for.
What were the best things about your course?
I thoroughly enjoyed the international exposure the course offered. I attended an exchange programme in Melbourne, a summer school in Seoul, a work placement in London and a field trip to Nairobi.
The teaching staff provided a diverse range of industry experience and academic knowledge, and supplemented that with numerous guest speakers from the industry. Together with the University support staff, they have been invaluable to helping me shape my career.
How did you change as a person during your time as a Surrey student?
As an international student, I learnt to be more independent as I was forced to take care of myself and be responsible for my actions. In addition, the advice and support I received from my lecturers helped me to consider different aspects in becoming a better decision-maker.
The friends I have made in Surrey have certainly made me more appreciative of different cultures and beliefs. I am proud to have friends from around the world and am still in contact with many of them.
What do you enjoy most about your work and why?
I enjoy working with different people from different backgrounds. Learning about different cultures from both social and professional viewpoints has certainly made it more rewarding. I also have the added benefit of making new friends along the way.
What are the challenges?
Working with different native languages has always been a challenge, but patience and a sense of humour goes a long way. This is also one challenge which I am excited to face as I look forward to working with more countries in the future.
What are your aspirations/goals for the future?
I am keen to take on a Masters degree and might look into doing it the next few years. In the meantime, I hope to increase my knowledge in Asia by exploring new opportunities within the region. Also, I have always enjoyed sharing my experience and knowledge and would love to take on a lecturing role in the future.
What is your strongest or happiest memory of your time at Surrey?
Strangely, it was the first thought when I first arrived at the University. I remember standing on a path overlooking PATS field thinking to myself, "this is going to be a wonderful few years".
And it definitely was more than I could have imagined.
What advice would you give to students looking to work in your field?
Explore the world whenever you can, especially when you are studying. And when it comes to it, nothing beats hard work as you start your career.
Discover our courses in hospitality and tourism.