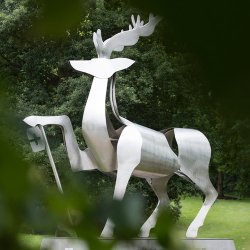 Martyn Staff
"I decided to study Radiation and Environmental Protection due to the unique nature of the course."
Course
Radiation and Environmental Protection
What attracted you to choose Surrey and to study your course here?
I decided to study at the University of Surrey for a variety of reasons. Firstly, the university hosts industry leading research which results in the high quality undergraduate and postgraduate courses. The university is also renowned for having a high rate of graduate employment which is essential in the current job market. I also liked the fact the university is situated in Guildford. 
Guildford is a vibrant, picturesque city which is steeped in history and located only a short train journey from London. I decided to study Radiation and Environmental Protection due to the unique nature of the course. For example the course included comprehensive theory regarding radiation protection and measurement, experimentation, visits to leading industry companies and lectures from influential experts from the radiation protection field.
What is your strongest memory of your time at Surrey – what do you picture first when you think of being here?
When I look back at my postgraduate degree my fondest memories are of the friends I made. I stayed in the Hazel Farm accommodation and I lived with a friendly, diverse and sociable group of people. I learned a great deal about different cultures, cuisines, religions and views as there were five different nationalities living in the house. In the evenings we used to cook for each other, play table tennis and go to the student union to take our minds off studying.
As well as my housemates, I met some friends for life on my course. My course consisted of 10 people in total so by the end of our studies we were a close knit group. We arranged group study sessions which created a friendly environment to revise topics and to share ideas. It is great to have made so many friends at university and it is interesting to look back at the different career paths everyone has taken after the degree.
What is the one thing you would say about Surrey (or your course) to someone who doesn't know anything about it?
One thing I would tell someone about the University of Surrey is the high employment rate of graduating students. The university has focused on the key issue of employment following further education which is an issue that all students must address. The university therefore put an emphasis on ensuring students gain industry experience from their courses. The industry experience includes year in industry programmes, dissertation projects sponsored by industry companied to solve specific industrial problems and through lectures from industry specialists.
What has been your career highlight to date?
My career highlight is being accepted onto the Engineering Doctorate programme. I am undertaking my research at the University of Surrey in the Micro and Nano Materials and Technologies department. This is a career highlight as the programme is designed to develop all round research engineers who can move into management positions early in their careers. I am proud of this accomplishment as I believe I will develop strong foundations for my career in engineering.
How did you change as a person during your time as a Surrey postgraduate, and how has your time here influenced your life and career since then?
My time at Surrey changed me as a person. When I studied at Surrey it was the first time I had lived a significant distance away from home. I learnt the key life skills of becoming self sufficient and standing on my own two feet. I also developed academically and gained confidence in my own ability. I undertook a course with students from a variety of backgrounds including engineering, physics, chemistry and environmental sciences. Working in these multidisciplinary groups helped me develop the skills of thinking about problems from a different perspective. I also learnt a great deal about the physics of radiation and the appropriate precautions required work safely and to meet legislation. I have always been interested in the nuclear industry so I believe these skills will ensure I undertake work safely and become a positive role model to my colleagues throughout my career.
My time at Surrey has defiantly shaped my career progression. Whilst at Surrey I received an advertisement through my internal email account for a vacancy on the universities Engineering Doctorate programme. I applied for the vacancy and was offered the position. I believe the confidence and people skills I had developed over my year at Surrey came across to the interviewer to make me stand out from the other candidates.
What are your top tips for students aspiring to work in your profession?
I am currently undertaking a career in research. My top tip for a career in research is to be enthusiastic about your chosen topic. The people who flourish in research are the people who enjoy their subject as many hours are in the laboratory and analysing data. Another tip is to gain industrial experience whilst undertaking a degree. Industry experience shows the knowledge which is learnt in the classroom can be applied to real life problems. Industrial experience is also great for answering essay questions on job application forms. An important skill to be a researcher is to be able to work as a member of a team. Being a team player helps highlight and solve problems quickly and efficiently by making use of everyone's attributes. A final tip which is fairly obvious is to attain good grades. A lot of knowledge is learnt at school and university which can be utilised in the workplace. To qualify for jobs in research candidate must typically have a 2:1 undergraduate degree or a master's degree in the relevant subject.