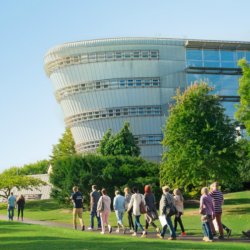 Matshediso Zachariah
Matshediso Zachariah, completed the MSc Clinical Biochemistry programme at Surrey - now called MSc Health and Clinical Sciences.
What attracted you to choose Surrey and to study your course here?
I completed my Bachelor of Science in Medical Laboratory Sciences at the University of Botswana. Upon completion, I was offered a Clinical Biochemistry scholarship and was informed to look for a university anywhere in the world. As the UK is known for the best education in the world, I seized the opportunity and started researching the top 50 UK universities. University of Surrey was 12th in the Guardian League Table at the time and the biochemistry department was in the top 10.
A former workmate and University of Surrey Biochemistry graduate also informed me that the department was one of the best and the Clinical Biochemistry course (now Health and Clinical Sciences) is endorsed by the NHS. I looked at the course outline and my sponsor and I was thrilled by the modules offered as they were very relevant for my future career as a potential PhD student and future Lecturer.
What is your strongest memory of your time at Surrey - what do you picture first when you think of being here?
Before I came to Surrey, I pictured it to be metropolitan university with tall buildings but to my surprise it is situated in the country with vast green spaces and a lake. The campus was the biggest surprise because it is small and intimate, not crowed like other universities. As it was my first time experiencing a campus with a lake I was very intrigued and therefore it was the first site to visit on arrival and I fed the ducks! I was very nervous on attending my first lecture but the course director assured us all we need to do is to work hard, attend all classes and always be punctual which made complete sense and motivated me to be the best I could.
What is the one thing you would say about Surrey (or your course) to someone who doesn't know anything about it?
MSc in Clinical Biochemistry was clinically oriented and we had the benefit of hearing from a lot of visiting lecturers from the best hospitals around UK. Coming with medical laboratory experience, I gained a lot of knowledge and skills in the field and updates around the diseases prognosis and diagnosis.
How did you change as a person during your time as a Surrey postgraduate, and how has your time here influenced your life and career since then?
During the MSc, I overcame my characteristic of being a procrastinator! I appreciated more that you should be timely and efficient in order to do very well. The new 'me' has been very resourceful in my PhD studies!
I love being a Clinical Biochemist because I not only get to do what I like, which is discovering new things, but also it includes an aspect of giving back to the community. To conduct research on something that has never been done before helps to give information to the community about diseases and better ways of managing them.
What are your top tips for students aspiring to work in your profession?
To be a clinical biochemist, you have to love reading and working hard. One also has to be patient because in the research lab you have to repeat a lot of experiments. You should be precise and accurate and most important have to love biochemistry, metabolic pathways and signal transduction.
Discover our MSc Health and Clinical Sciences programme and others in the field of Biosciences and Medicine.