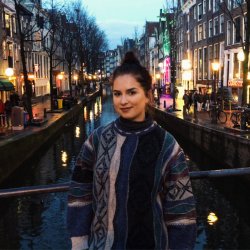 Paulina Rosol
"I undertook a Professional Training placement as a Prison Officer in a local prison. Every situation taught me new things about different people and how different people behave."
Course
Criminology and Sociology BSc (Hons)
"I attended an open day for every university I was applying for, as it was a useful exercise to gauge an understanding of the university. Meeting the current students and seeing whether they enjoy the university was also crucial. It was important to know the area as well seeing as I didn't live locally at the time.
I really liked Surrey. At the time the University was doing very well in the league tables, especially in my chosen field, which was the foundation of my decision making to come here.
I enjoy the aspects of the course that question things about the world and enable us as students to be more critical about the society. A lot of the course engages with this, which is good.
The academic staff are all very knowledgeable in their field, especially as many of them are researchers alongside their role as teachers. They are very passionate about what they do and it comes across in their teaching.
I lived in Manor Park in my first year, and I really enjoyed it. It felt safe and secure, and the distance to the University was manageable. Guildford is a nice place to live, there is a lot to do here aside of studying. I spend a lot of time in the Library, and to take a break from studying me and my friends usually go out for lunch on campus to socialise.
The Professional Training placement option was very valuable to me, as I felt it was a very good thing to put on your CV when you graduate. You don't only have a degree but also experience in the field, which is necessary for the current job market.
I did a Professional Training placement as a Prison Officer in a local prison. The work was very front-line and hands on. I dealt with a lot of vulnerable people, and a lot of difficult situations. At times this was tricky and emotive, but every situation taught me new things about different people and how different people behave.
"The highlight from my placement has been the personal development I gained from the role, the year changed me completely as a person."
Communication skills were key in my role, and I have definitely developed these. I am also a lot more confident now than before, and I am better at working as a team due to the importance of this within such a role.
I would definitely recommend a placement. It gives students an idea of the job sector that they will be going into, and on many occasions, it may not be what they expect. It also enables students to see what it is like working full time, as the management of time is completely different. The experience that can be gained from a placement is so valuable, it has definitely contributed a huge amount to the skills I have gained since starting university.
Being at university teaches you so many things apart from the academic aspects. You learn who you are as a person, how to manage your time, how to manage finances, and overall how to be independent.
I still have my placement year job, which is what I will go back to when I graduate. This has meant I have more time in final year to focus on my studies."
Discover more about our criminology and sociology courses, including our BSc Criminology and Sociology.