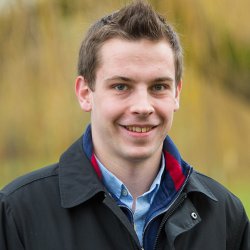 Ralph Newbold
"Over my time at university, the staff on my programme have always been very helpful. My degree has offered me plenty of time within the laboratory environment in some of the best facilities in the country."
Course
Food Science and Microbiology
"When doing my A levels I had chosen Surrey based on its position in the league tables and also due to its offering of a Professional Training placement. In today's working market, having the ability to have a year's worth of experience in industry before you graduate is invaluable and it really boosts your CV along with giving you some valuable transferable skills. 
I went through adjustment to get into Surrey. On results day, I was straight onto the phone and I was greeted by a friendly individual on the other end of the phone. He was very helpful and guided me through all my options. He kept in contact with me throughout the day to see how I was getting on and he talked me through all of the different courses they had to offer at Surrey. This really helped me to make my decision.
I went to an Open Day the day after results day. I was welcomed by many friendly faces on my arrival and I was taken on a tour of the University's facilities. I was allowed to look into the University teaching labs for Bioscience and through all of the lecture halls. Doing this made my decision to come to Surrey very easy.
I always really enjoyed biology throughout my time at school. I attended a number of Open Days across the country to see what different bioscience courses there were out there. I found at every session that Microbiology always stood out. I applied to do Microbiology at Surrey and once I joined I chose to do a few food science modules as part of my degree. In my second year, I realised how much I enjoyed the food science aspect of my degree and therefore decided to change to Food Science and Microbiology, which was very easy to do with the help of the faculty admins.
My programme allows for me to read around and investigate different areas across both the food science and microbiology industries. There is regular feedback from lecturers about laboratory work and essays, which really helps you to develop your written work to improve for the next time. Also, in my programme you are afforded a number of different opportunities to attend events. Ove event I have recently attended is Student Launchpad, which is an event held by the Institute of Food Science and Technology (IFST), this provided useful information about future careers in the area and allowed me to speak with industry professionals.
Over my time at university, the staff on my programme have always been very helpful. They are willing to help you understand areas which you find confusing and to offer advice for future careers. My degree has given me plenty of time within the laboratory environment in some of the best facilities in the country. Further to this, I am working on a laboratory based dissertation which again has afforded me the use of some great facilities in order to carry this out.
I lived in university accommodation in my first year. The university accommodation gives you the opportunity to meet loads of new people and make new friends pretty much instantaneously. The accommodation I was in had good facilities for living and for the area it was very well priced.
I have been part of the University Hockey team since my first year. Being part of a club has allowed me to meet people with similar interests as myself and has also helped me to build my confidence. I have recently taken on the role of Chairman of the club. This has allowed me to develop skills such as leadership and time management, as I have had to manage a committee to ensure the club runs smoothly and also juggle this alongside my degree.
Guildford has a lot to offer for students heading here. Firstly, the University has some of the best sports facilities in the country at the Surrey Sports Park which allows for Team Surrey to have some of the best sports teams in the country. Secondly, the campus is very close to the town centre which has plenty to offer in terms of shopping and places to eat, as well as being surrounded by the picturesque Surrey Hills. Finally, the campus is very localised so everything is within walking distance. Surrey also has a Students' Union which offers a number of opportunities such as trips to Disneyland, Bath and other famous British cities. 
For my Professional Training placement, I worked for an Organic food retailer called Abel & Cole as a Quality Assurance Technologist. This involved evaluating customer complaints and product specifications, and going out and visiting suppliers to help them to improve their operations. The highlights of the year included being in a position of authority and getting the opportunity to work on big products, such as constructing protocols for the company.
I would definitely recommend doing a Professional Training placement. I gained a number of transferable skills throughout the year which I will be able to take with me when I graduate. It has also given me another aspect to my CV which will help the search for graduate jobs. It helped me to understand what jobs there are out there for people studying my degree which has made job hunting a lot easier. 
My greatest achievement of 2016 so far has to be my completion of my placement year project. Over the year, I reviewed and restructured a code of practice at the company I worked for. This involved putting together an 80-page document aligning suppliers by outlining our requirements from them and ensuring that the company conformed with EU legislations.
I have become a lot more confident since starting University. This is due to my involvement with the Hockey team and also through my placement, which allowed me to realise I knew more than I thought I did. I have also become a lot more focused on my studies as I have finally found something that I enjoy.
I am currently working my way through a number of graduate job applications. I will also be looking for postgraduate study as I would like to further my understanding in food science and microbiology as I have enjoyed my degree so much."
Discover more about our Biosciences and Medicine and Food, Nutrition and Dietetic programmes.