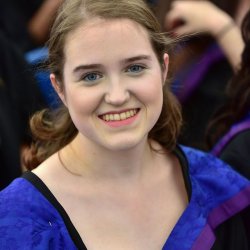 Rosamund O'Donnell
"Looking back on my interview and application for both OCCA and Oxford University, much of what gave me the edge was all that I did in my Erasmus year."
Course
Law
Study abroad location
University of Turku, Finland
What subject did you study at the University of Surrey and what year did you graduate?
I studied LLB Bachelor of Laws and graduated in July 2016.
What were the best things about your course?
One of the greatest things about studying law is that it develops your ability to distil complex information down to an adequate conclusion. This is a hugely transferable skill in the workplace, but also in going on to further study.
Why did you decide to take an Erasmus study or work abroad exchange?
I decided I wanted to experience an entirely different culture which I had no previous understanding of. I realised there might not be many times in my life where I would have the opportunity to travel and receive a grant for living in another country.
Where did you go and what did you do on the Erasmus scheme?
My exchange was with the University of Turku in Finland for two semesters. Here I studied a range of modules, including a Master's Module in Law and the Internet, Legal Technology, and Women's Human Rights Internationally. Though I could have easily just spoken English in Turku, I also took Finnish lessons up to European Language Level A1. I also wrote articles for the University paper (in English) for the international students. Both of which are still featured on the front page of the website (Turun Ylioppilaslehti).
In addition to this, I initiated and helped organise a meal per term for international students at my English speaking church. I was also a part of a Christian student organisation OPKO (Opiskelija ja Koululaislähetys) where a resource recently translated from English into Finnish. I happened to be familiar with it and had used it a lot back in the UK. I was asked to travel and speak to students from 5 different Finnish cities to talk about this Christian resource and how it had impacted British students.
How did your Erasmus experience help you develop personally or professionally during your time as a Surrey student, and has this influenced your choice of career?
I am currently studying with an organisation called the Oxford Centre for Christian Apologetics (OCCA) including an accredited theology course through the University of Oxford. Looking back on my interview and application for both OCCA and Oxford University, much of what gave me the edge was all that I did in my Erasmus year.
What do you do now and what do you find most enjoyable about your line of work?
Though I am still continuing as a student, there are many incredible opportunities I have had with OCCA – including opportunities to travel outside of England (Sweden and Edinburgh) and speaking opportunities in these areas.
What advice would you give to current students thinking about an Erasmus study or work-abroad placement? 
I would say, don't rule out studying in Europe. I know quite a few people who studied in the US, Canada or Australia simply because they were English-speaking countries. Obviously you don't want to be totally out of your depth, but equally don't miss out on the chance to challenge yourself and learn a new skill or language. The University of Surrey offers a vast amount of choice. You might be surprised by the number of European countries which don't require a second language before you arrive.