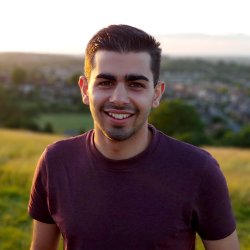 Sam Sarjudeen
"The Film and Video Production Technology course teaches the theory, creative and practical side of pretty much everything to do with the practical side of the film and TV industry."
Course
Film Production and Broadcast Engineering BEng (Hons)
I decided to come to Surrey towards the end of Year 12, at an open day. The campus, town and location were all factors, but the biggest was the course and how well suited it was to me and what I wanted to do career-wise. The PTY was very attractive to me as I saw it as a great opportunity to go into the industry, gain contacts and possibly come out of university with a job ready and waiting for me.
The Film and Video Production Technology course teaches the theory, creative and practical side of pretty much everything to do with the practical side of the film and TV industry. To know how and why something is done the way it is, is something I find useful. The staff are very helpful and happy to talk with us. The small yearly intake of people helps to make the most of the contact hours we have with them, as we can book tutorials and get to know them more than just tutors. The facilities are great and the studio, edit rooms and equipment are industry standard.
In my 1st year I was living in halls – Surrey Court. It was great. You automatically make friends despite being surrounded by people you wouldn't necessarily be friends with. But it was good fun. The fact that you're so close on campus means you can easily make and eat lunch and then come back to lectures afterwards without having to hang around. Though I do spend time on campus eating with friends in Hillside and studying in the library. 
My placement training year is as a Technology Trainee for ITN, working on the news for ITV, Channel 4 and Channel 5. The placement has involved a lot. As I write this, I am nearing the end of my time as a links engineer, which is a broadcast engineer working in the field to establish the link between studio and reporter/outside broadcast position. I will soon be moving to a position in MCR (the master control room).
"I covered the major political events of 2019 and been to many places which I consider myself very lucky to have been to, even though I don't like politics!" 
The events include the Labour and Conservative Party conferences, State Openings of Parliament, Brexit bills/votes, the 2019 General Election, the NATO summit, amongst others. As a broadcast engineer working in the field for these events, I found myself rigging cables and pressing buttons metres away from party leaders and other 'famous' people, and even putting earpieces in their ears. I've also spent time with experienced journalists, broadcasters and news producers such as Jon Snow and Matt Frei.
The main work involved: operating sat trucks and establishing comms and video links via satellite, assisting cameramen and reporters and being a good assurance that things will work, using and configuring video encoders, rigging and operating live platforms positions (including in Westminster with up to three news programs being broadcast simultaneously), shadowing news engineers in the field and assisting them when presenting from an outside location, and much more.
"I would 100% recommend a PTY to others. For me it has been an incredible experience and the things I've been up to have tied in so well to almost all of the modules I covered in my first and second years".
To be independent in an actual job and 'test the waters' with what I want to do with my future has been a huge advantage and one that I will not take for granted.
I have two favourite moments so far. The first was being part of the live broadcast of 'Strictly Come Surrey' in my second year, as both a coursework project and alongside StagTV. It was great to be able to work with my course mates and help them with their project and I loved operating the equipment that handled all the replays and VTs. The second was on my PTY – covering the 2019 Labour Party Conference. It was a really great experience not long after starting at ITN. I was with a great team of people and we had a good laugh and I did a lot of varied work that I enjoyed.
At Surrey, I've become more confident, especially socially, but also with my ability to work under pressure. In the future, I hope to continue working at ITN (if they'd like that!) but not in a Field Ops position. As good as working out in the field has been for my training and experience, I think an indoors job is more to my liking!
Discover more about the Music and Media courses offered at Surrey, including our Film and Video production Technology degree.