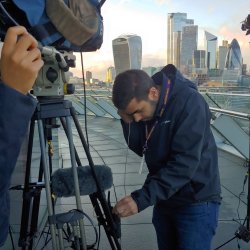 Sam Sarjudeen
"The range of equipment and facilities available at Surrey is large and everything is state of the art, preparing you well for the industry after graduation."
Choosing Surrey
Surrey has a nice campus in a small but busy town. The course ticked all the boxes for me; it was creative and technical, and so was I! I wanted to work in film and TV, so the course was a way to improve my learning and develop industry skills, and ultimately become a more employable person. My strongest memory is meeting my (now) wife and all the great friends I made, through the course and outside of it through other societies. Also, as it's where I work now, it reminds me of work!!
Course best bits
Spending a year in industry on a placement at ITN covering the general election on location was a real high point. The intake size on the Film Production and Broadcast Engineering (FBPE) course is smaller than most degrees, which is a real bonus as you get to know all your course mates and build both casual friendships and useful networking contacts. It also means that tutors and lecturers are very approachable and have time for you, always offering genuine advice on how to improve coursework and answer questions you have from lectures. The range of equipment and facilities available at Surrey is large and everything is state of the art, preparing you well for the industry after graduation.
 Life after Surrey
When I finished my final year, I immediately started working for a new news broadcaster in London. My first day at work was their first full day of broadcasting, so it was quite an experience! I was responsible for managing incoming sources going into the live news shows (e.g., reporters in locations around the world and guests over Zoom). But then I returned to my roots and started a position at the University of Surrey as the Television Studio Technical Manager. It's an incredibly varied job, being involved in the teaching of the FPBE and Music and Sound Recording (Tonmeister) degrees and looking after the bookings and technology in the TV Studio.
The highlight has got to be being heavily involved in the build of the brand new £2m TV Studios and facilties upgrade. I was running cables and plugging in old and new equipment in a brand new, fully sound-isolated facility. It was encouraging seeing current students and graduates help with the build, and the support from our industry partners and equipment suppliers was great. I count myself incredibly fortunate to be able to do the work I have been doing for the last few months with the new studio.
Choosing your career
The course broadened my prospects and opportunities but also helped me to see that broadcast engineering is where my skills lie and what I enjoy doing the most. Surrey did this through excellent teaching and showing me a variety of ways to apply my learning; labs, workshops, coursework, etc.
Advice for students aspiring to work in your profession.
Make the most of the opportunities given to you. I wish I had done even more. When you're a student, you have a surprising amount of equipment at your disposal, and you can usually choose how you want to be involved in a project. So that really allows you to tune into what you might specifically want to do in the film and TV industry in the future.