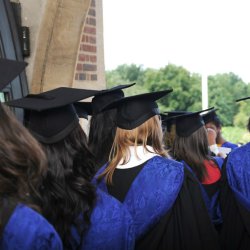 Sina Zavertha
Sina Zavertha works as a Junior Economist in London, providing market insight, intelligence and consultancy for high profile clients in various sectors of the economy.
What attracted you to choose the University of Surrey and to study your course here?
When I started looking for the university in which I would spend my last year as a student I had two things in mind: to find a place that could prepare me properly education-wise, and to be a place in which I would have fun.
The University of Surrey combines both, as it is a high-level educational institute, and an inspirational and beautiful place to live in. Moreover, it is only 30 minutes away from London for the days that you want something different.
What is your strongest memory of your time at Surrey – what do you picture first when you think of being here?
The first thing coming to mind is spending time with my friends either for fun or studying near the lake. When you share studying hours with friends in an environment away from the library or your room, it is amusing and productive.
What is the one thing you would say about Surrey, or the course you studied, to someone who doesn't know anything about it?
Surrey is collaborating with high profile organizations and companies. I would suggest if you have career perspectives especially for the UK, try to seize the opportunities offered at university to attend conferences, careers fairs and events. The sooner you realize what you want to do next the better.
How did you change as a person during your time as a Surrey student, and how has your time here influenced your life and career since then?
You inevitably change and take things more seriously when you are closer to graduation. My one year at Surrey helped me understand the career I wanted to follow and prepare myself properly for it by attending networking opportunities and academic seminars beyond the compulsory lectures.
What career have you gone into after graduating?  What do you find most enjoyable about your line of work and why?
I work as Junior Economist at a London-based company which provides market insight, intelligence and consultancy for high profile clients in various sectors of the economy.
I am now focusing in the construction sector. The fact that my academic knowledge can be used as a base to analyse and forecast the performance of an industry in which I did not have any background is very interesting.
Moreover, working in an international and multi-cultural environment and having responsibilities and deadlines is a challenge for me, widening my way of thinking and progressing me as a person.
What are your top tips for students aspiring to work in your profession?
Pursuing a career in economics requires specialized academic knowledge, so I would suggest you learn as much as you can during your time at Surrey. You should also always stay up-to-date on what is happening in the world - and not only in the economy - in order to understand how the theories work in practise.
Is remaining connected with the alumni network important to you?
Of course it is important, as if you ask, the Careers Service is ready to help you with your post-university life, and can prepare you to go out in the labour market with increased chances of success. Furthermore, the University of Surrey is organizing Careers Fairs and also has a Career Portal - important and necessary tools in your job search. When you are at this phase, you realise that finding a job is a full time job in itself. Knowing that you have access to that kind of help is reassuring.