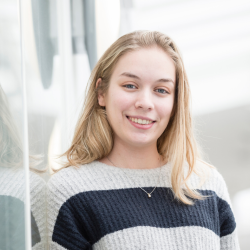 Sofia Squire
"I have changed since I started at Surrey and have become a lot more confident, independent and strong."
Course
International Business Management BSc (Hons)
I chose to come to Surrey because the campus felt like home from my first open day. When I was visiting other universities there was always something that wasn't quite right for me, however, when I came to Surrey it all just clicked into place. Studying abroad and doing a professional training placement were things that I really wanted as part of my degree, so that also influenced my choice.
I like that I get to study and understand business from an international perspective. In the future, I would like to travel as part of my job and work with businesses around the world, so understanding different cultures and their ways of working is very interesting to me.
I also like that I get to learn about the different areas of business, from HR to operations management, from finance to accounting. It gives me a good perspective of how businesses operate.
I think our campus is one of the best things the university has to offer. As well as the accommodation, the campus has everything you need, from a lake to relax, a little supermarket, and a nightclub. Having such a great campus really helps when first adapting to living away from home!
I think the location of Surrey is fantastic. Being so close to such a nice town gives us the chance to get away from campus and enjoy a variety of shops, restaurants and leisure activities. Also, being so close to Gatwick and Heathrow is fantastic for international students as it's very easy to travel home.
I did my placement year at Chaddesley Sanford, a small accountancy firm. I mostly worked in their office in Central London, but also sometimes worked in their Guildford office.
"I would recommend a professional training placement as it was extremely helpful to understand how my knowledge from my first two years at university could be used in the real world."
Additionally, I think it is a great opportunity to see if what you are studying is really what you want to do after graduation.
I think my best experience at Surrey has been studying abroad. I got the chance to study at the University of Central Florida in Orlando for five months, and it was a fantastic opportunity to grow both personally and in my studies.
I have definitely changed since I started at Surrey and have become a lot more confident, independent and strong. I have also grown professionally, acquiring a large variety of skills that I can apply in my graduate job and my future career.
Discover more about undergraduate study at Surrey Business School.