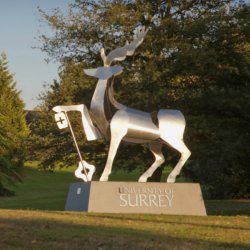 Tamsin Stirling
Tamsin Stirling works at the Foreign and Commonwealth Office (Consular Directorate) in Spain. She graduated from Surrey's BSc Business Management & Spanish in 2013.
Course
Business Management and Spanish
Why did you choose to study Business Management and Spanish at Surrey?
I was looking for a degree programme that combined both subjects as I really enjoyed studying them at A-level. Spanish is the second most widely spoken language in the world; linking that with business provides me with an open horizon for the future. The University of Surrey has a certain prestige and provided a course that encompassed all elements, an extensive list of modules to choose from, together with first class lecturers, all experts in their respective fields. The opportunity to study or work abroad on a Professional Training placement year particularly appealed with regards to future employability prospects.
What stands out about the course you chose to study and how has it helped you in your working life?
The University of Surrey provided me with a first class education and a whole range of transferable skills that I am currently using and will continue to use in my career. The course, together with the Professional Training placement year, has given me unique opportunities and unforgettable experiences, prestigious business contacts and valuable friendships.
What is your current role and organisation?
I graduated from the University of Surrey in July 2013 and soon found an internship at the British & Colombian Chamber of Commerce (B&CCC) in London. I worked as the Marketing & Events Coordinator, using both my business and language skills on a daily basis. I played a significant role in organising a number of successful corporate networking events, most notably the launch of the Council of the Ibero American Chambers (CIAC). This role brought with it a great deal of responsibility and accountability. I took charge of all aspects of the event from beginning to end, encompassing my knowledge of marketing and advertising, finance and budgeting, and project management to ensure the event ran smoothly and achieved the desired objective.  
During my final year at University, I developed a great interest in the work of the Foreign & Commonwealth Office and the Diplomatic Service after watching a series on television which documented the work of the British Consulates around Spain. I never would have imagined that, a few months after watching the programme, I would be working alongside one of the Consular teams that featured on the show. I joined the Healthcare Team, made up of UK Department of Health (DH) representatives based at both the British Embassy in Madrid and the British Consulate in Alicante. We provided advice and support to British Nationals (both temporary visitors and permanent residents) requiring access to healthcare across Spain, informing them of their entitlements and ensuring they were correctly registered.In addition to dealing with customer enquiries and providing outstanding customer service on a daily basis, I was involved in developing key partnerships with the Spanish authorities, producing marketing campaigns and social media messages, designing presentations, writing newspaper articles and press releases and participating in outreach events to develop relations with customers and other key stakeholders. I also managed a multi-million pound budget and offer general administrative support to the team ensuring consistency and overall efficiency. This was a challenging yet incredibly rewarding role. The British Consulate deals with a number of problems ranging from lost or stolen passports to highly sensitive cases such as murder, rape and kidnapping. No two days in the office were the same! It was an eye-opening experience and one that taught me a lot, not only from a business point of view in terms of how a governmental organisation operates, but also about customer relations and life itself. I also found myself to be in good company; the Consul himself was also a graduate from the University of Surrey!    Following this role I was thrilled to land a position as Ticketing Coordinator for the Olympic Games in Rio de Janeiro 2016.
Many people who study a degree with languages think that you are only destined for a career in teaching or translation. Similar things are said about business degrees in that they confine you to solely working in human resources or marketing for the rest of your life. I'd like to think that I, along with a number of friends on my course, and previous graduates who studied a combined business and language degree at Surrey, provide the evidence that this doesn't have to be the case. Many of us have started down the paths to international careers. Some of my course mates currently work in Mexico, Argentina, Russia and France, to name but a few."
How did the key skills you learnt at Surrey Business School help prepare you for the world of work? 
In order to be business ready, I believe university undergraduate students require effective communication skills, confidence in their own abilities, good organisational and time management skills, and the ability to balance a heavy and/or diverse workload and manage priorities with the flexibility to re-prioritise at a moment's notice. They need to be comfortable working independently (and take responsibility for doing so) and also as part of a team in order to achieve the desired result. People skills are essential. Furthermore, strong attention to detail is often another skill required by employers.
I believe that some, if not all of these skills can be introduced within the classroom, however I strongly support the opportunity provided by the Professional Training placement year to apply such theory to a practical context within the working environment in order to further development. I greatly believe in study and work abroad programmes and the benefits they bring. I saw an enormous change within myself and my colleagues on returning home from placement year, in terms of both personal and professional growth. 
If you had your time again, would you choose to study the same course? 
It was four years of hard work, but worth every second! I graduated with a First Class Honours degree, the prize for best overall performance in Spanish and a wonderful group of friends who I know will go on to be successful in their chosen careers. I can't wait to see where we all end up in 30 years time! I feel incredibly fortunate to have been taught by some fantastic academics and to have had the opportunity to live and work abroad. This magic combination has already opened so many doors for me and I am certain it will continue to do so in the future. I really enjoyed my time at Surrey and if I had the chance to do it all over again, I wouldn't hesitate for a moment.
Learn more about our Business Management degrees.