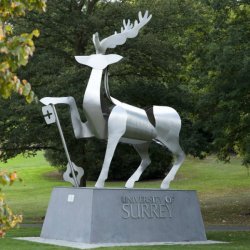 Tom Haywood-Pope
Tom Haywood-Pope, Area Manager at Unifrog Education Ltd
Course
Business Management
The professionalism of staff on my open day was a huge influence in my decision to study at Surrey. My father and I could both see that the University was investing in facilities and people in the right places and the University was going places, something I was very keen to be part of.
The first thing I see is the lake by Senate House. A gorgeous place to relax with friends and study.
The Business degree was great, covering a whole spectrum of content with real life scenarios and direct involvement from the business world to give current and topical lectures. The lecturers had great "real world" knowledge and often pulled in external speakers.
I work for an EdTech start up that helps students to find their best next steps for life after school. We're a small team, growing rapidly and all passionate about helping ensure students end up at the best destination for them. Being part of a small growing organisation was one of my post-university goals as it's a great way to learn all aspects of business.
Studying business at Surrey allowed me to get a taste of nearly all aspects of business. As well as helping me to identify my strengths and passions, I was also able to spot my weaknesses and areas I needed to work harder upon. I opted not to do the placement year as I was keen to finish my studying and get in to the working world, inspired by my studies at university.
There are loads of EdTech companies all doing great work. To get on in the industry you'll need to be passionate about helping schools, teachers and students, be flexible and able to respond to feedback, and able to work with a variety of personalities, organisations and stakeholders.
Make the most of your time at Surrey, there's so much to enjoy and learn time will fly by. The friends you make at Surrey will be friends for life.
This is not an endorsement of the University of Surrey by Unifrog Education Ltd, nor my views as an employee of Unifrog Education Ltd. These are personal views and experiences.
Learn more about our degrees in the field of business and management.