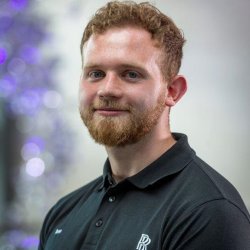 Tom Lang
"I do enjoy the salary, but the best part is definitely the people I've met – everyone has been so pleasant, welcoming and helpful."
Why did you apply to Rolls Royce for your placement?
I wanted to see what it was like inside one of the most prestigious automotive brands in the world. Rolls Royce is unlike any other motoring manufacturer because of the vehicles it produces, so I wanted to get an insight into the plant and how it works.
What did they ask you in your interview?
The general theme was around passion for cars – I think because if you enjoy the things you're working on, you'll enjoy the job. Since a lot of what I do (both academically and through my hobbies) is heavily automotive, I was able to fit in well.
And what do you do on placement?
I work in the Geometric Integration team which is in charge of analysing and measuring the geometry of pre-series and series vehicles to ensure they are up to a standard that matches the company's reputation. We measure single parts, whole vehicles and panel gaps as well as using a 'Pruefcubing' validation tool to improve the quality of the vehicles – and over my 13 months here I've worked in all of these areas.
What does a typical day involve?
It depends where I am in the team. At the moment I'm working in the measurement department so a typical day would involve measuring a part that has been brought to us from elsewhere in the plant. I'll create a scan and import it into a CAD software so that we can directly compare the produced part with its CAD nominal to ensure that it's geometrically correct.
Do you get to work on live projects?
Yes, lots! One big project I've worked on, and thoroughly enjoyed, was the Pruefcubing event for the first in-plant build phase of the new Rolls Royce Spectre.
Aside from work, what's the best thing about your placement?
I do enjoy the salary, but the best part is definitely the people I've met – everyone has been so pleasant, welcoming and helpful.
Has it been hard adjusting to a 9-5 job after being a student?
In a way, yes, because the work times are slightly different here – we work from 7am-3.30pm. A 6am daily alarm can be tough to adjust to!
Describe your placement experience in three words.
Enjoyable, rewarding, inspiring.
What's been the main benefit of going on placement for you?
It's been incredibly useful in allowing me to understand how a company functions and how engineering works in the real world. I think every engineering student needs to get an insight into a global engineering-based business. You gain skills that are difficult to learn fully at university – such as communication and team working – and these can be key to a team succeeding.
Discover our courses in mechanical engineering sciences, including our BEng (Hons)/MEng Automotive Engineering.