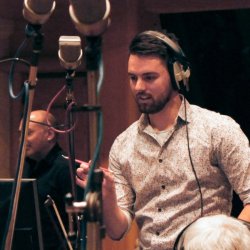 Tom Player
"At Surrey, you're given such freedom to study your interests. If you're a driven person, there's real opportunity to develop your voice as a musician, and go on a journey of discovery using the facilities and knowledge in the whole department." 
What attracted you to choose the University of Surrey and to study your course here?
I thought about studying physics for a while, but music was my passion and eventually I had the choice of studying at either Surrey or Herts University. I knew I didn't want to just study 'regular' music, but was attracted by the fact Surrey offered something a bit different in their Creative Music Technology BMus course. I didn't know anything about the industry initially but as the guest lecturers were illuminating with their experience, we all felt more connected to potential future opportunities as the course progressed.
I first came to Surrey on an open day and from the start I felt a great atmosphere on campus and a communal, warm feeling in the music department. It felt like everyone was on the same page and when they weren't working, people were still chilling together talking and experimenting with their music.
What is your strongest memory of your time at Surrey?
The Department of Music and Media was an exciting machine to be a part of. It always felt like you could contribute to something bigger than just the course, as you were surrounded by such a large group of like-minded people. I was already producing music before coming to the University, but I definitely became more confident and outgoing as the energy at Surrey was infectious. I was also president of 'Presha', the on-campus drum and bass night, which is still running today.
The course really nurtures a diverse range of musical creativity. My strongest memory at Surrey was performing my final recital one afternoon – Beethoven's sonata on cello - then heading out to DJ at Presha to test out my latest tracks, before Pendulum played the headline slot. Quite a range of music in one day!
What were the best things about your course?
At Surrey you're given such freedom to study your interests. If you're a driven person, there's real opportunity to develop your voice as a musician, and go on a journey of discovery using the facilities and knowledge in the whole Department.  
The culture at Surrey isn't just about spending time in a classroom, then going home. To succeed, you need to make the effort to meet people, and make connections, some of which may last a lifetime.
What do you do now and what do you find the most enjoyable about your line of work? Have there been any highlights?
In 2013, I founded a company providing music for adverts, film trailers and live concerts, called 'Lost Track Productions'. The latest production is a UK tour for Ministry of Sound (backed by industry heavyweights Raymond Gubbay and Coalition), titled 'The Annual Classical' where a 50-piece orchestra, plus synths, play the biggest dance hits of the 00's.
We perform in concert halls, but bring in a thunderous sound system, lasers and smoke, and everyone is dancing from the first minute, until the last encore! I also got to work side-by-side with an incredible talent, and Surrey music alumni, Lee Reynolds - a far cry from his main gig conducting the London Symphony Orchestra and opera at Glyndebourne!
The rest of my time is spent in the studio, where I've written soundtracks for ad campaigns, and film trailers such as The Hobbit, Game of Thrones and Avengers. I've also worked with Cartier, Sky Sports, Ikea and Volvo. It's a competitive industry and you have to be fluent in several areas to meet the fierce and fast moving flow of jobs. The real craft and thrill is trying something new and it working really well for a client.
My favourite part of the job is working with orchestras - it still gives me goosebumps every time. Escaping the computerised orchestral 'mock up' and expanding your sound with a living, breathing orchestral ensemble - is a challenge and privilege. I've had so many 'pinch yourself' moments during recording sessions.
How did your time at Surrey help you choose what career to go into?
I didn't have much lined up after university, but a composer had emailed the Department looking for an assistant - we really got on well and I worked with him for a couple of years. This then led to other opportunities to travel all over the world, including working in LA with Hans Zimmer, as a Technical Score Assistant for The Dark Knight and Iron Man.
For me, I got the best out of my time at Surrey by not just doing the bare minimum, but thinking 'How can I do the assignment in an interesting way?' I used to knock on random PATS practice rooms and ask permission to sample, and then transform those recordings into pieces of music later.
Music has given me the opportunity to create work that feels unique and different. My most recent album, Close your eyes, was recorded with an 80-piece orchestra at Air Studios, and I employed a painter to 'live paint' the recording sessions. He created 12 door-sized canvases in two days.
What are your top tips for students aspiring to work in your profession?
If you're nearing the end of your course and not sure what you want to do, don't worry. There's a risk of having a plan that's too tight, and saying no to opportunities because they don't fit with what you imagined. Just say yes to everything and try different things. It will open up your world, you'll gain life experience, and while not everything you do may lead to a dream job, you'll learn how the business works. 
Finally, do you have any other comments you'd like to offer about your time at Surrey or life after university?
If there's something you're extremely good at, offer your services – but have a bit of humility – this is really attractive to employers. There's so much to learn out there in the world, be original, make your music stand out, and be prepared to learn.
Check out Tom's new album by visiting: https://fanlink.to/TomPlayerCloseYourEyes
Discover our courses in music and media including our BMus Creative Music Technology.