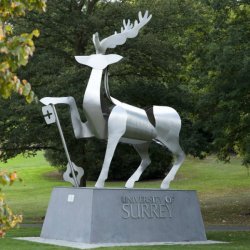 Ugbizi Ogar
Ugbizi Ogar, an Energy Analyst for the International Energy Agency (IEA), shares his experience of studying energy economics at Surrey.
Ugbizi graduated with an MSc in Energy Economics and Policy in 2010 and is an energy analyst for the International Energy Agency (IEA). He is the first African member of staff to be appointed to the IEA and was highly commended in the Industry category of the Vice-Chancellor's Alumni Awards for his role at the organisation.
I was surprised and delighted. It feels good when your work is recognised, especially as I love it so much. It was an honour.
I feel I am carrying the entire African continent on my shoulders.  I have a deep sense of commitment and know that being a Surrey graduate with a good Master's degree helped secure the place at the IEA. It is very gratifying and worthwhile to be involved with something I am so passionate about.
As a an energy analyst, I look at the energy policy for African countries, India and Mexico validating data for the World Energy Outlook, produced each year on global energy issues. I also liaise with contacts on the African continent, including representatives of government departments and energy industry specialists.
I realised when I went to the IEA the chronic energy poverty in Africa. In my country, Nigeria, 50 per cent of the population has no access to basic energy for cooking and heating – that equates to around 75 million people. This is unacceptable in this day and age.
The aim of Energy Access Africa is to implement simple off-grid energy solutions to bridge the energy gap across the continent.  This is a cause I am very passionate about.
There are signs of hope – there have been improvements to the grid with an extra 2,000 megawatts added in Nigeria this year and there is a solar power policy in place. There is still a lot of research to be done around clean energy and the technologies that need to be developed. However, we may have serious problems to overcome but it is very rewarding working in this field
There were a few reasons. I knew I wanted to be close to London but not live there and one of my role models, Lanre Babalola, the former Minister of Power in Nigeria, is a Surrey alumnus. The whole application process was also very smooth – Surrey makes it very user friendly.
Significantly. I became more disciplined in my approach to my work and was more organised – living on Manor Park campus I needed to  make sure I was on time! I also met such a diverse group of people from around the world so the experience was very good.
The library was exceptional and made me want to study and learn.  I also remember teams in the 2010 Women's Rugby World Cup playing at Surrey Sports Park, which was brand new.
What advice would you give to students looking to follow in your profession?
Energy is a key commodity globally and working in the area requires a lot of discipline and fast learning. It must be taken to heart, and it is very rewarding. Renewable energy is a growing market and there are a lot of opportunities.