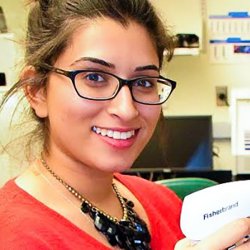 Yasmeen Hussain
Yasmeen Hussain, Biomedical Science undergraduate, tells us about her placement at North Carolina State University and how it led to a joint research publication.
Course
Biomedical Science
Placement company
North Carolina State University
"I selected to undertake my placement year at North Carolina State University (NCSU) in Raleigh in the United States of America. Surrey has a lot of links set up with NCSU, so I knew that my time there was going to be worthwhile.
My Professional Training Year was based in a research lab in the Department of Biological Sciences and I spent the majority of my time studying the genetic architecture of behaviour in Drosophila melanogaster.
Working in a lab environment was completely different to anything I had previously done as part of my course. It was exciting to get to work with experts in the field and be a real part of big decision-making as part of my own project.
In addition to expanding my professional skills, being on the other side of the pond meant I could take full opportunity of exploring as much of the States as I could fit into one year. From L.A. to New York, there was always a new city to explore and a lot of time to do so!
From presenting a poster at the Annual Drosophila Research Conference in Chicago, to becoming a co-author on my first scientific paper, the skills I have gained from my Professional Training Year are invaluable. My confidence within a lab environment has increased which will aid me in completing my dissertation this year. Choosing one of the many international placements that Surrey has to offer was one of the best decisions I have made and I fully encourage as many people as possible to take the leap and do the same!"
Discover more about our biosciences and medicine programmes, including our BSc Biomedical Science.