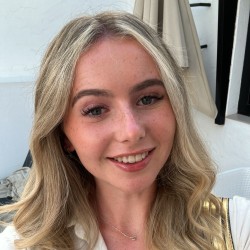 Zoe Ellingham
"I've been offered a job from my placement for when I graduate next year!"
Course
Psychology BSc (Hons)
Placement company
Jigsaw School
A typical day on placement 
I completed a year-long placement at the Jigsaw School in Cranleigh. A typical day involved starting 15 minutes before the children arrived so you had time to choose which programmes you wanted to complete with them that day and prepare the relevant materials. Most children travelled to school in a taxi so you'd help collect them for class.  
Most mornings we did 1:1, so depending on the programmes you had picked you would teach money counting, handwriting, reading, telling the time or, in some cases, how to wash your hands, how to respond to your name or how to tie shoelaces. Depending on the day and the child you were with, you might have to help with personal care such as toileting and hair brushing. We also had to deal with challenging behaviour sometimes and helping the children with emotion regulation. 
Afternoons were typically spent in group work to help the children's social communication skills. Throughout the day we would take data on any behaviours that occurred and would end the day by writing home to parents and evaluating the work their child had done. 
Highlights 
I got to plan my own group lessons which I absolutely loved. Each term we were given a different topic and were given complete freedom to do what we wanted. It was amazing to notice things you had taught the children being brought up by them weeks later, which showed the lessons had been impactful. 
My biggest takeaway 
I learnt how to be resilient. Some days were very tough in terms of challenging behaviour and verbal abuse, but we had to be able to bounce back to be there for the other children. You also have to accept that none of it is intentional. 
Give yourself time to settle into a new routine and make the most of the experience – it really does fly by and before you know it, you will be in your final year wishing you could go back to the start!
Life back at Surrey 
For the first few weeks, I found it hard to get back into the swing of university life, however I think this is normal for final year even if you haven't done a year away. Placement gives you transferrable skills which can be used to help your time management in final year, ensuring you stay on top of your work. 
I definitely feel my studies benefited from being on a placement. My final year modules are related to the field I was working in and nothing beats having first-hand experience in a real-life setting. 
My future plans 
I've been offered a job from my placement for when I graduate next year! The experience helped me confirm aspects of a job that I want as well as those I don't. It also opened my eyes to all the paths I could go down for my career that I didn't realise were available.
Find out more about our Psychology BSc.