Leave a gift in your will
Your generosity can help students receive a world-class education and help us find the answers to global problems through pioneering research.
How legacies make a difference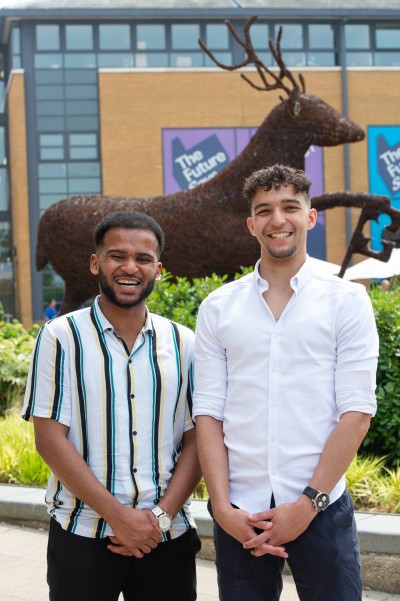 Whether you are an alumnus, a former member of staff or a friend of the University, by choosing to remember Surrey in your will you can help to enrich the lives of students and support ground-breaking research.
Large or small, your gift matters. While the University has been lucky to receive substantial bequests in the past, smaller amounts can also make a big difference, for example by helping to alleviate student financial hardship.
Leaving a legacy is a truly personalised and versatile form of giving. Many alumni, staff and friends have a strong link with a specific area of the University; their former department, a sports team, the library, medical research, scholarships or student hardship support. Your experiences and memories of the University can help you decide how you want to support the next generation of students and staff.
"People might think that a legacy has to involve a phenomenal amount of money but if a number of people leave a little, then it soon becomes a lot. Surrey has helped us have a very good life and, if we can give that back, we will rest very easily." 

Janet Preston (Physics, class of 1978)
Find out more
Whatever you want to achieve, we would be delighted to discuss your wishes and help you make the most of your bequest.
If you would like to know more about leaving a gift in your will, please contact Daniel Lawrence, Regular Giving and Legacy Manager (d.k.lawrence@surrey.ac.uk) and he will be in touch. You can also contact Daniel directly by ringing 07772 508325.
If you have already decided to leave a legacy gift to Surrey, we would be grateful if you could let us know. This will enable us to ensure that any aspects of your plans involving the University are understood and achievable. We can also thank you for your support by inviting you to our annual legacy supporters' lunch and keep you up-to-date with the latest University news. 
Leaving a Legacy to the University of Surrey FAQs
Gift in Will donations are important to the University by helping to fund scholarships, supporting students in hardship as well as allowing us to undertake world-leading research.
Any gift, no matter the size, is able to have a huge impact on future generations.
We can work with you to ensure that your wishes are completely followed and are happy to advise on the best way to achieve this.
Daniel, our Legacy Manager, is on hand to discuss your gift in will with you to help you make the most of your bequest. Daniel can be reached at d.k.lawrence@surrey.ac.uk or by ringing 07772 508325.
Free Will Service
This year, the University of Surrey are delighted to have teamed up with Guardian Angel to offer our Alumni community a free will service.
If you live in England or Wales, you can write your Will online today. It is completely free and takes about 15-20 minutes to complete the online Will which will be checked by Guardian Angel's legal experts once submitted. You may choose to leave a gift in your Will to the University, but there is no obligation to do so if you wish to use the service.
Please note: Guardian Angel is a third party. By clicking on the Guardian Angel website link, you will be leaving the University of Surrey's website and will be governed by Guardian Angel's privacy and cookies policy. For more information on how the University of Surrey uses your personal data and your rights, please see our Alumni Privacy Notice.
If you have any questions that are not covered in our frequently asked questions, please contact our team at alumni@surrey.ac.uk
Your online Will is created and checked by Guardian Angel's solicitor-approved system and expert legal teams. It just requires you to input your own details to be completed.
The University of Surrey is partnering with Guardian Angel to offer alumni this service, however while many of our supporters decide to leave a gift in their will to the University of Surrey, there is no obligation to do so if you wish to use this service.
If you need to change or amend your Will, Guardian Angel offer free unlimited changes as part of their annual subscription service. This is free for the first year and then £10 a year afterwards. You can opt out at any time, and will not be charged when you complete your will. 
The offer is open to any of our University of Surrey Alumni community who lives in England or Wales.
During the course of completing your Will with Guardian Angel, you will be asked if you would like to leave a gift to the University. If you choose to leave us a gift in your will, you will need the below information:
Registered Name: University of Surrey 
Registered Office: University of Surrey, Guildford, Surrey, GU2 7XH 
Charity Registration Number: X3967 
If your Will needs updating, you can re-write it online with a new Will to ensure it is up-to-date and current.  
If you would prefer to amend your current Will, you can call the Guardian Angel team on 0800 773 4014 and they will be able to arrange an appointment for you to make any amendments over the phone or in person with one of their solicitors.
No, the University of Surrey do not receive a copy of your will, nor will we be informed of its contents. We will only be told of any gift to the University of Surrey if you give your consent to share this with us.
You will be asked at the end of the process if you are happy to share your name, email and address with the University of Surrey. If you are, a member of our team will be in touch to thank you for your gift and ensure we carry out your wishes.